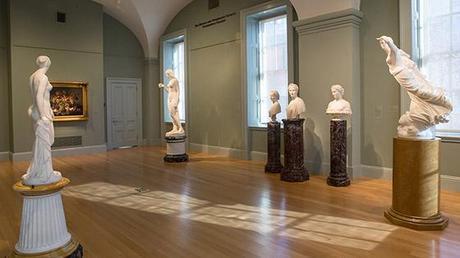 One of American Art's Newly Reinstalled Galleries on the Second Floor
During the past year, regular visitors to the American Art Museum might have noticed certain galleries on our second floor were temporarily closed. The reason? Our curators, exhibition team, and collections managers had undertaken the challenge of reinstalling about half of the galleries on the floor. This reinstallation was an opportunity for us to use our artworks to tell America's stories and relate them to each other in new ways. In some cases, this meant moving pieces from one gallery to another, but in others, our team brought art from our offsite storage to their new homes on our walls and pedestals.
Last week, our curator of sculpture, Karen Lemmey, led visitors on a tour of the floor and talked about factors considered when redesigning the galleries. Her tour was not just an introduction to the newly installed pieces, but also an invitation to view sculpture in a fresh way. Karen discussed one of her goals, moving particular sculptures, like Eve Tempted and The Lost Pleiad away from the wall so that visitors could view them in the round—the front is not always where the most interesting details lie. She also encouraged us to appreciate the effect direct light has on a smooth, marble surface, as well as to look at the negative space, the empty space between a sculpture's different elements, to appreciate the full form of the piece.
The reinstallation also meant deciding which pieces belonged where, for both aesthetic and storytelling purposes. For example, the theme of the west end of one of the hallways is "The Myth of America." Here, Constantino Brumidi's Study for the Apotheosis of Washington in the Rotunda of the United States Capitol Building hangs between a plaster bust of John C. Calhoun (a South Carolinian senator and early advocate for Southern succession) and the larger-than-life Washington Resigning his Commission. This corner explores the official message the federal and state governments wanted to project through its public art about the country during the mid-19th century. Despite the meticulous planning that went into placing each piece, inspiration continued to strike. As Karen was telling our group about John C. Calhoun, she laughed when she noticed his placement. Perhaps along the "southern" wall of the corner would have been more appropriate.
Other additions to the second floor include a Shaker furniture gallery and a room of early folk art pieces. If you'd like to try to catch a tour, Karen's was part of a public program series called "What's New on Two?" in which our curators lead gallery talks focused on the floor's recent changes. There are no more talks this winter, but please check our spring calendar for future tour dates and times.