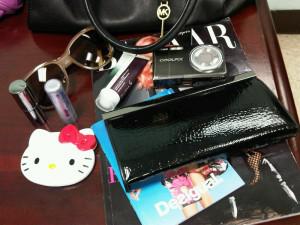 Let's face it, what we carry in our purse says a lot about who we are. And it can reveal a lot about ourselves–our likes, needs, and yes, even our personality. I find it quite fascinating and quite amusing!
I just did a quick bag transfer just this morning, which left me with my EOS Summer Lip Balm (which I absolutely love), my trusty Moleskin calendar, Lesportsac makeup bag and a set of keys. What I pack in my bag of course depends on where I go, but I'd say I'm mostly practical, though I do love having sweets and a camera handy. I asked my lovely co-worker, Kit, what she  had in her bag (see above). Kit's style is a mix between Party Girl and Planner Girl and you'll always find a magazine and camera in her tote

. So what's in your bag?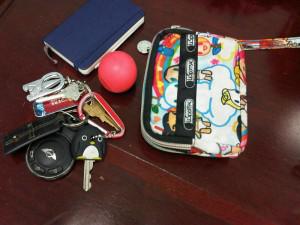 The Everything Girl: You always carry a large bag and your whole life is in it–makeup, first-aid kit, sewing kit, Advil, snacks, extra pair of earrings and hair tie, Kleenex, notebook, pen, and everything else you can think of. You're the nurturing type and always prepared no matter what.
Sporty Girl: You just need your basics and you're good to go–phone, keys, wallet, lip balm.
Beauty Girl: You always have all your makeup needs in your bag just in case you need a bit of touch up here and there because you never know where you'll be or who you'll meet.
Fun Girl: The contents of your bag might be a bit disorganized but you have everything you need to keep you entertained–your camera, iPod, candy, chocolate, magazine.
Planner Girl: Everything in your bag is neat and organized–your have your schedule book, notebook, pen and everything you need to make sure that your life is in control.
Have a fabulous Thursday!
P.S. – And for all you brides/bridesmaids out there, we have the perfect deal going on right now at 1928bridal.com! If you buy 3 of the same items (earrings, necklaces, hair barrettes), you get the 4th free. Enter code: "bridesmaidsbargain" at checkout.
'