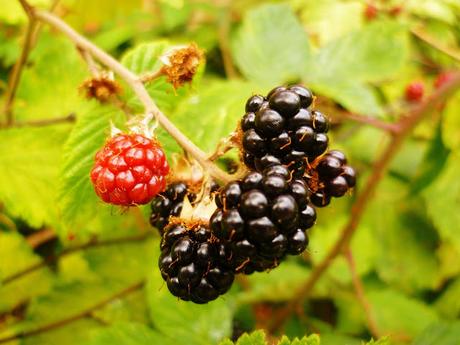 wild brambles (about 20 feet from my front door!)
Blackberry-Picking
Late August, given heavy rain and sun
For a full week, the blackberries would ripen.
At first, just one, a glossy purple clot
Among others, red, green, hard as a knot.
You ate that first one and its flesh was sweet
Like thickened wine: summer's blood was in it
Leaving stains upon the tongue and lust for
Picking. Then red ones inked up and that hunger
Sent us out with milk cans, pea tins, jam-pots
Where briars scratched and wet grass bleached our boots.
Round hayfields, cornfields and potato-drills
We trekked and picked until the cans were full,
Until the tinkling bottom had been covered
With green ones, and on top big dark blobs burned
Like a plate of eyes. Our hands were peppered
With thorn pricks, our palms sticky as Bluebeard's.
We hoarded the fresh berries in the byre.
But when the bath was filled we found a fur,
A rat-grey fungus, glutting on our cache.
The juice was stinking too. Once off the bush
The fruit fermented, the sweet flesh would turn sour.
I always felt like crying. It wasn't fair
That all the lovely canfuls smelt of rot.
Each year I hoped they'd keep, knew they would not.
Seamus Heaney (1939-2013)

Where has summer gone? While I am not much for sunbathing (being of the British lobster persuasion) I don't think I've added even one small freckle to my collection this year. I am feeling a little cheated. The garden looks lush and green but what few vegetables I have tried to grow have largely failed. (Which probably says as much for my gardening as it does the weather). Fortunately,  farmers and other growers seem to have coped what seems like another season of torrential rainfall. And in theory, fabulous September is bursting with beautiful fruit and vegetables, such as sweetcorn, broccoli, apples, damsons and early pears. In fact, this year, there has been an abundance of early-ripening blackberries, not least a small patch of brambles that I have been eyeing covetously not twenty feet from my front door. I do hope that none of the neighbours gets in before I've had a chance to  pick a few.

Right now, salad vegetables such as peppers and juicy tomatoes are very much in season. I can't get enough of tomatoes, a trait that I suspect I have inherited from my late father, Henry, whose love of tomatoes was legendary. I'll be making one of my favorite recipe discoveries, from Nigel Slater of baked tomatoes with coconut and spices.
It's at this time of year that I start to look out for cheap deals on gluts of vegetables at the market and supermarket for an embarrassment of riches to make pickles, chutneys, jams and relishes, as well as laying down some fruit vodka for Christmas (I do like to be prepared!)

You'll begin to see more of the autumn and winter vegetables such as pumpkin, celeriac and cauliflowers. But September also marks the beginning of the fish season (every month with an R in it). Look out for sea bream, crab and my favorite mackerel, which packs such a punch in flavor.
vegetables, herbs and wild greens:
artichokes (globe), aubergines, beetroot, borlotti beans (for podding), broad beans, broccoli (calabrese), cabbages (various varieties), carrots, cardoons, cauliflower, celeriac, ceps, chard, chillies, courgettes, cucumber, endive, fennel, french beans, garlic, kale, kohlrabi, lambs lettuce, lettuce, mushrooms, onions, oyster mushrooms, pak choi, peppers, parsnips, peas, peppers, potatoes, pumpkins and squashes, rocket, runner beans, salsify, sorrel, spinach, swede, sweetcorn, tomatoes, watercress
fruit and nuts:
apples, bilberries, blackberries, blueberries, cherries, chestnuts, damsons, elderberries, figs, grapes, greengages, hazelnuts, juniper berries, loganberries, mulberries, peaches, pears, plums, raspberries, rhubarb, strawberries
meat and game:
beef, chicken, duck, goose (farmed), grouse, mallard, mutton, partridge, pork, rabbit, turkey, venison, wood pigeon
fish and shellfish:
black bream, crab (brown, hen and spider), freshwater crayfish, herring, lobster, mackerel, mussels, oysters (native), prawns, river trout (brown and rainbow), salmon (wild), scallops, sea bass, shrimp, sprats, squid, whiting