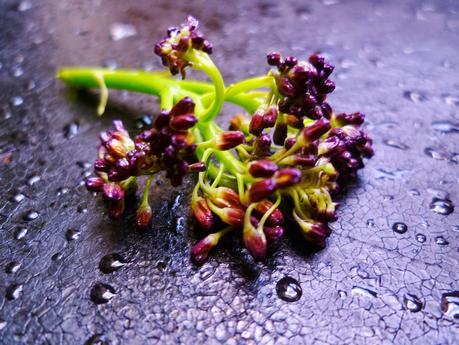 purple sprouting broccoli
Yet again, May has got off to a bit of a gray start - the sky over London is a murky shade of gunmetal. Last night there was a spectacular hail storm, although the garden doesn't appear to have suffered; everything is looking rather lush with bluebells, wild leeks, the odd nasturtium and some early roses, as well as a few tulips. It has of course been another mild and wet spring.

So while the winter crops are coming to an end, with stores of fruit and vegetables are dwindling, hopefully British seasonal produce will be beginning to come into their own . . . weather permitting.
I am really enjoying the purple sprouting broccoli at the moment.
Let's give a big cheer for glorious
British asparagus
, a very short but sweet season of six to eight weeks which really gets going in May. We can also celebrate May with the new season potatoes; look out for
Jersey Royals
, which are at their peak in May. It would be a good time to try out a simple salad or vichyssoise soup.

Since outdoor-reared spring lamb appears later this month, it's the perfect time for all sorts of lamb roasts. I really should post the amazing Yotam Ottolenghi lamb shawarma recipe from his wonderful book, Jerusalem. What made it wasn't just the spice mix but the delicious coriander sauce that accompanied it.
It's easy being green in May, since the first of the year's herbs, such as chervil and parsley are around, as well as watercress (which makes a fabulous soup), and nature provides spring foraging with wild leeks and wild garlic.
vegetables, herbs and wild greens:
artichokes (globe), asparagus, beetroot, broad beans, broccoli (purple sprouting), broom buds, cabbages (various varieties), carrots, cauliflower, celery, chard, chives, fat hen, hogweed shoots, garlic, hop shoots, lettuce, meadowsweet, mint, morel mushrooms, parsley, radishes, samphire, sea kale, sea spinach, sorrel, spring onions, turnips, watercress, wild fennel, wild garlic (ransoms), wild rocket
fruit and nuts:
apples, cherries, gooseberries, pears, rhubarb
meat and game:
beef, chicken, duck, lamb, mutton, pork, turkey, wood pigeon
fish and shellfish:
crab (spider), freshwater crayfish, cuttlefish, herring, lemon sole, mackerel, mullet, pilchards, pollack, prawns, salmon (wild), sardines, sea bass, sea trout, shrimp