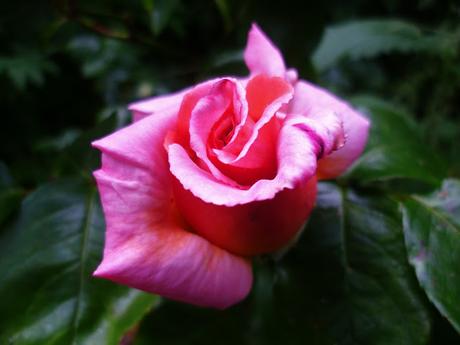 a june rose from my garden
My garden is lush at the moment, overgrown with rampant roses, honeysuckle and elderflowers. I know I should probably have cut them back, but they do look so wild and pretty. (Although in my defence I have developed carpaI tunnel syndrome over the past few years, and sometimes it is just too painful too painful to do any proactive gardening. This is also one of the reasons why I haven't been cooking or blogging much over the past few months, as I have had problems handling cooking utensils. It has just been far too dangerous!)

On a happier, and oft-repeated note, June is probably my favorite month, for no better reason than it is my birthday month, the days are getting longer and as a child I was firmly convinced of June's magical properties; Mid Summer Day was full of faeries, enchantment and stories of future loves and I had no reason to disbelieve this. On my sixteenth birthday, I was given a bottle of homemade wine as a present, with a beautifully designed label entitled "Rachel's Midsummer Magic" and I have been trying to maintain this feeling of enchantment ever since, even if my lovelife, like an English summer, has been something of a wash-out!
The elderflower comes into season – a plant that was once thought to have mystical qualities and the ability to protect us from witches. Last year I actually got my act together and made some magical elderflower wine, which certainly made me feel rather well-protected (if only because of the ability to bounce off the walls without feeling any pain). But what I am really looking forward to this year are the berries (if I can get to them before the birds) to make up loads of cordial.
As summer approaches, most of us Brits are praying for sun and a chance to picnic and barbecue, although most of the time it is a hopeless case as our summers seem to be getting even wetter. But we can still soldier on with lovely party food, such as lamb and feta bites, perfect whatever the weather.
But despite the weather, home-grown food really is coming into season, albeit a few weeks later than normal. My favourite English asparagus has a couple more weeks to go and my beloved broad beans and peas are here to stay for a while. Thank god! Tomatoes make their first appearance too and the lettuces are raring to go too. British strawberries are only weeks away, cause for celebration indeed - I shall definitely be making bucket-loads of jam this year, as last year my strawberry jam ran out far too quickly. I shall also definitely be making Eton Mess again, with my strawberry and hazelnut meringues. It is divine (she says modestly!)
Look out for Jersey Royals, the king of new potatoes, where the specific growing environment (island slopes, sea breezes and seaweed mulch) gives them an intense potato flavor.
vegetables, herbs and wild greens:
artichokes (globe), asparagus, beetroot, broad beans, broccoli (calabrese), broom buds, cabbages (various varieties), carrots, cauliflower, chard, horseradish, lettuce, marrow, peas, peppers, sea spinach, tomatoes, turnips, wild fennel
fruit and nuts:
apples, cherries (European), elderflowers, gooseberries, pears, raspberries, redcurrants, rhubarb, strawberries, tayberries
meat and game:
chicken, lamb (welsh), mutton, pork, turkey, wood pigeon
fish and shellfish:
black bream, crab (spider), freshwater crayfish, cuttlefish, gray mullet, herring, mackerel, pilchards, pollack, prawns, river trout (brown and rainbow), salmon (wild), sardines, sea bass, sea trout, shrimp