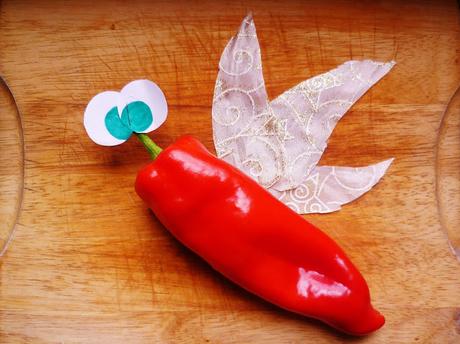 a red pepper dragonfly!
Crimson pepper pod
add two pairs of wings, and look
darting dragonfly.
Basho 1644-94
I was ambling around the internet looking for some poetry inspiration to introduce this month's roundup of seasonal produce. Basho's haiku on the subject of red peppers and dragonfly wings really rather tickled me. His haikus are a joy and still speak vibrantly down the centuries.

On my travels I also came across Jessica Tremblay's Old Pond Comics blog which is a comic strip featuring two frogs: Master Kawazu (the frog who inspired Basho's most famous haiku poem) and his young apprentice Kaeru. The website is a lot of fun, teaching haiku through charming cartoons following a young haiku apprentice.
Jessica's illustration of the red pepper dragonfly made me laugh. I thought I could have a go at illustrating the haiku with my own home-grown red peppers. Sadly while full of ideas, lacked the application. But you get the picture. Perhaps I should have just posted a picture of one pepper in all its simplicity. On the plus side, it has started to make me think about writing seasonal haikus. Or perhaps not . . .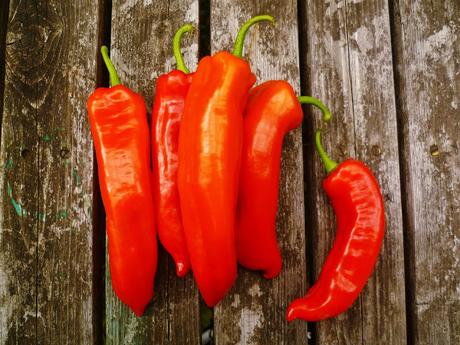 red peppers - August 2015
So we're at the height of summer and it is grey, grey, gray. But rumor has it that we might have another heatwave. Just a rumor mind. But assuming that the rain doesn't come bucketing down, there'll be bbqs and outdoor eating galore. I always indulge myself in a

selection of Spanish 
tapas
or Middle Eastern
mezze
,
little nibbles of something amazing
, or perhaps a refreshing
cold soup
, under the vine-laden pergola while swigging lashings of cold white wine.

If you are bbq'ing, it might be worth going for a street food vibe. I can thoroughly recommend my Malaysian chicken satay and Indonesian seafood sate lilit.
As for what is good to eat in August, this month should (weather permitting) be a good month for soft fruits and vegetables, with stone fruits such as plums (such as Victorias) and peaches appearing towards the end of the month. And since we are talking of delicious food and hot weather, this is also the season for spice and chillies; I don't know why, but the hotter the weather, a really hot chilli noodle dish seems to cool me down.
By the end of August and into September, there will be food for free and I shall be out foraging and beating back the wildlife in order to get to those wild berries. It shall also be the time to actually put into practice some of my ongoing New Year's kitchen resolutions - in foraging, preserving and better planning. Some things never seem to change!
vegetables, herbs and wild greens:
artichokes (globe), aubergines, basil, beetroot, borlotti beans (for podding), broad beans, broccoli (calabrese), cabbages (various varieties), carrots, cauliflower, ceps, chanterelles, chard, courgettes, cucumber, fennel, French beans, garlic, horseradish, kohlrabi, lambs lettuce, lettuce, mushrooms, onions, oyster mushrooms, pak choi, peas, peaches, peppers, potatoes, purslane, pumpkins (and squashes), radishes, rocket, runner beans, salsify, samphire, sorrel, spinach, sweetcorn, sugarsnap peas, tomatoes, watercress, wild fennel
fruit and nuts:
apples, apricots, bilberries, blackberries, blueberries, cherries, damsons, gooseberries, greengages, hazelnuts, loganberries, peaches, mulberries, pears, plums, raspberries, redcurrants, rhubarb, strawberries, white currants, wild strawberries
meat and game:
beef, hare, lamb, mutton, rabbit, venison, wood pigeon
fish and shellfish:
black bream, crab (brown, hen and spider), freshwater crayfish, herring, john dory, lobster, mackerel, mullet, pollack, prawns, river trout (brown and rainbow), scallops, sea bass, shrimp, skate, squid