A while ago I did a post about packing for a trip with Isabelle to England, and what was in our suitcase. Since this week's posts have all been very personal/family centred, I thought I would do a post which gives a little insight into our every day lives...what I buy at the supermarket.
Now, I know that sounds immensely dull. But I bet you read on anyway, and I bet that you actually enjoy having the chance to nosey in someone else's weekly shop! I know that I am always interested - and often amazed - at what I see other people buy, and it makes you wonder sometimes what people get up to at home!
Our weekly shop usually comes in at around £50-60, although last week it was a pretty mammoth £70 as we needed lots of cupboard essentials which we seemed to run out of all at once! I ALWAYS shop in Tesco, and we usually end up with loads of vouchers from their Clubcard reward system which always helps bring our bill down. I also plan what meals we are going to have each week before I go shopping, and that helps me write a list of what we need, so I don't end up buying loads of things that won't be used.
After years of making fun of my sister-in-law for writing her shopping list in the order she will find things in the supermarket, I must admit I am a total convert and always do the same now!
So here was last week's shop, unpacked and ready to be put away once I got home: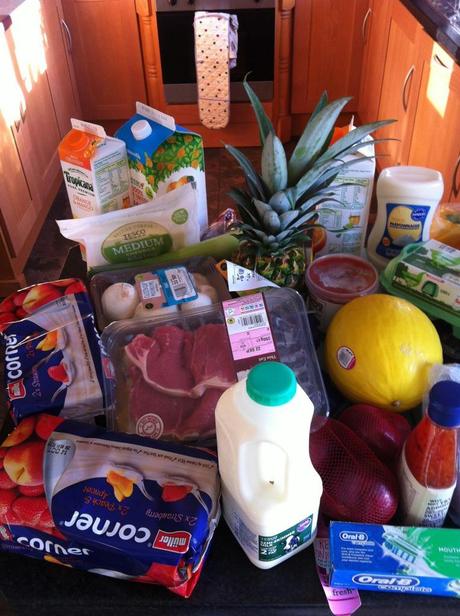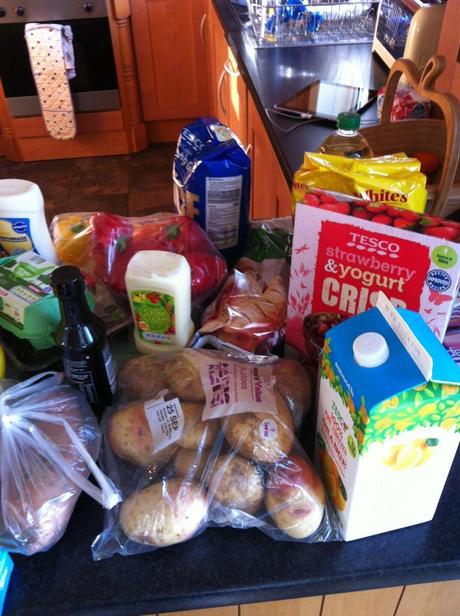 I'm pretty proud to say that at least 75% of what we buy goes into the fridge (or to be frozen), and we buy very few 'processed' things like ready meals, ready made sauces etc. There is a tub of ready made pasta sauce in there that I grabbed for dinner that night - and then wished I hadn't bothered. It looked  great, but in reality was just the same as any sauce we usually make ourselves!
A lot of what I buy is fruit and veg - this week there was pineapple, melon, potatoes, peppers, onions, mushrooms, leeks, grapes and sweet potato. We don't eat a huge amount of meat - there is steak that I made for Simon's birthday and some chicken breast underneath that, simply because I don't like meat. We have it with most meals, but usually just have chicken, which is something I'm sure Simon wishes he could change! 
Every week I buy yoghurts, milk, fruit juice, eggs, cereal, cheese and usually some bread as well. We get through so much juice in particular, and I always buy the not from concentrate, chilled juice. It's expensive, but tastes so much nicer (and is 1 of our 5 a day!).
This week I spent a lot of time chasing down various condiments - mayo, salad cream, soy sauce, sweet chilli - which will last us for a while, and which all magically ran out within a few days of one another! 
It's pretty scary actually that that little group of bits and bobs cost us £70. I really understand why some families who live on a tight budget can't afford to eat lots of fresh fruit and veg, or great quality meat, as that is definitely were the bulk of our money goes. If I needed to keep costs down, I would head for the freezer aisles for ready meals/processed food as money seems to get you much more there.
So there you go - a little nosey into our lives. Shopping day again today...and since we have visitors this weekend, and are 'catering' Isabelle's baptism party for the family, it'll be a big one!