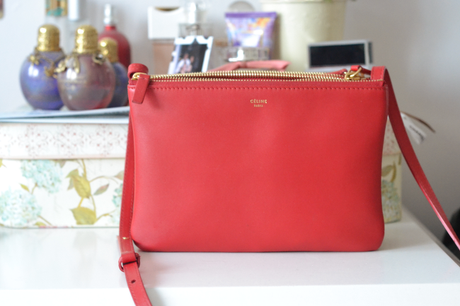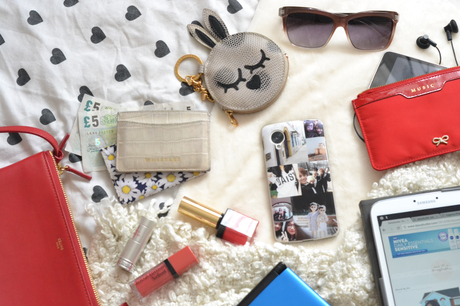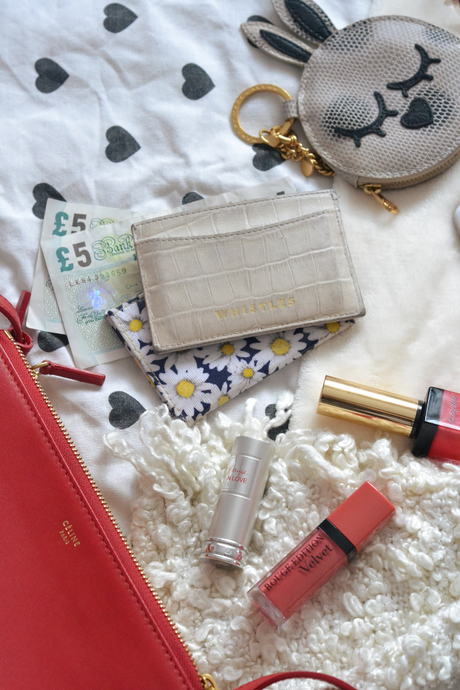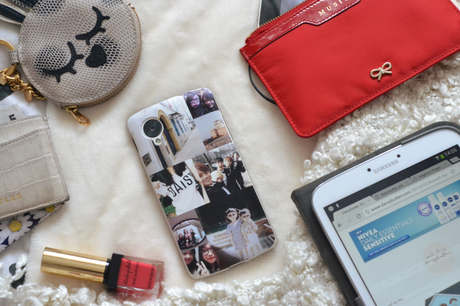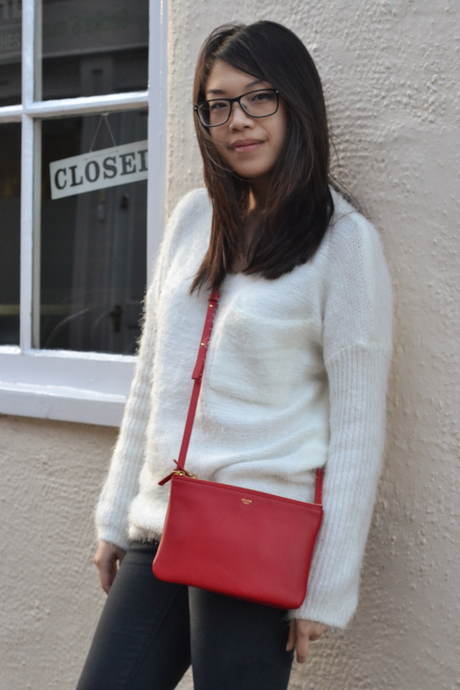 What's In My Bag - May 2014.
Some of my continued favorite posts to read on blogs is the ubiquitous What's In My Bag tag. There's something so fun and a little bit sneaky about peering into the contents of someone's handbag, right? It's been a while since my last installment so with summer peeking round the corner, here's an updated talk-through of the bits I'm carrying around with me for everyday use.
Hint:
I've finally downsized!
My Celine Trio Mini is my everyday bag at the moment. It's about 8" wide, making it ideal for carrying my essentials and a little more. I posted briefly about my Trio a few weeks ago, but to answer some more questions:
yes
, the price is a little extravagant, yes I can fit everything in there, and no, it wasn't something I "needed". I saved for nearly 7 months to buy this bag and I'm still smitten with it now. Red was always at the forefront of my mind when I began looking at the Trio with classic black being my other option. It's the lucky color in Chinese culture as well as it being full of 2012 memories for me - 'sup Taylor Swift. The bag has three pouch compartments that are detachable from each other, so you could use it as a clutch if wanted!
I'm super meticulous when it comes to organising my Trio so that my belongings are easy to grab when I need them. The first pouch houses my travelcard holders (Oyster, railcard, car park pass and security passes for work). I never was a fan of oilcloth holders until I became a serial tea spiller and I found this daisy print one at Accessorize! I also keep my Marc by Marc Jacobs coin purse and Whistles card holder (holds my debit card, driving license and business cards) in here too. See the theme?
The middle pouch holds my small gadgets and lipsticks. I'm not sure when I became that girl who must obsessively carry multiple lipsticks but I am. The realisation that a lip color can make or break your whole day is life-changing! Currently obsessed with Lancome Rouge in Love in 351B Rose Des Soupirants, YSL Baby Doll Kiss and Blush in 5 Rouge Effrontee and Bourjois' Rouge Edition Velvet in 04 Peach Club. Believe the hype, I'm obsessed! I then obsessively carry my Aesop Reverence Aromatique Hand Balm in this pouch. My phone - a Nexus 5 - and battered iPod Touch housed in its' Anya Hindmarch also get swung in here.
Last but not least, the third pouch is a bit of a free for all. On days where I'm headed out for a concert, day out or other activity, I'll often pop the tickets in there. And today it houses my 3DS XL and
Samsung
Galaxy Tab 3 8"! I've got a full post up about my Nintendo 3DS XL, so head here to read it, but my tablet is the newest addition. The ideal gadget to keep up to date with emails, blogs, YouTube videos, drama series and manga.
What do you carry around in your bag? Which bag are you currently using? Share your latest WIMB post with me in the comments.
Disclaimer: This is not a sponsored post. The only brand gifted item is my Nintendo 3DS XL - everything else is purchased by myself and by family! Enjoy! ^_~