This weekend when I was taking pictures of my haul from the Hobo International sample sale, I figured I should take some pictures of what is inside my own purse!
The bag of the day was my leather hobo from Sabina: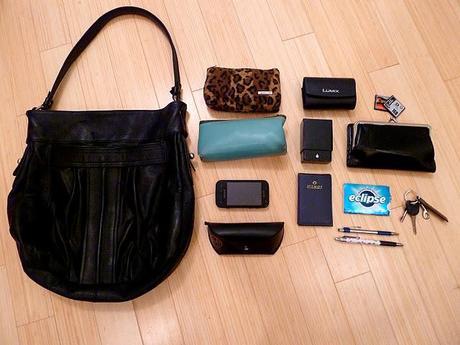 This is what I carry on a regular day - the only thing missing is my engagement calendar. Yes, I am living in 2011 and still carry a paper calendar
(with small address book in the back of it)
! Calendar missing because my husband was borrowing it to make sure he and I were on same page for the next few weekends.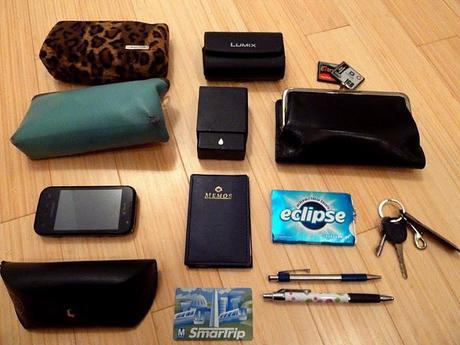 I learned from my sister to keep everything in pouches for easy switching of bags and organization of tiny items.The aqua pouch (a freebie from an Estee Lauder gift with purchase) is for cosmetics, the leopard faux fur (bought at Arden B in the late '90s) is for my "emergency kit."  
The sunglass case carries my silver aviators from Ray-Ban - classic, lightweight, my regular go-to shades.  
The black box with the teardrop on it are my business cards - I got them from MOO and the box has little dividers so in there I can store my mini cards, my full-size cards, and my "real job" cards.  I also have a place to store cards I collect from networking events.
I always carry two memory cards - when my husband takes my picture in the morning I hand him one, he takes the pics, gives it back to me and I edit photos on my lunch hour at work.
Eclipse gum - it was on sale at the grocery store and I have a dozen of these packets everywhere.  I like that they can't fall out of the case and get all grody on the bottom of my bag.
Two retractable pens so they don't ink up the inside of my bag
SmarTrip card - a given if you live in the DC area.
A notepad to capture ideas, SKU numbers so I can go online and find it cheaper, and random ideas.  I have had this same notepad for years and love going through it and remembering different moments in the past.
My wallet - you can see the inside of it at this post.
Keys - I used to have a bigger keyring, complete with a flash drive but recently simplified.  House, car, office.  The rest are stored at home.
Camera and phone.  A given.
Not seen - my snack.  I usually carry a 100-calorie pack of almonds or a Weight Watchers bar in my bag to I don't succumb to a high-fat treat in a moment of weakness, but had yet to replace from eating the last one a couple days prior.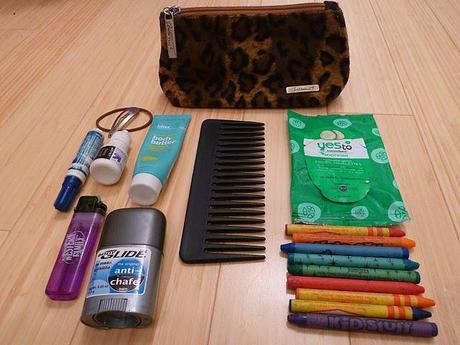 The contents of the leopard pouch - hair thingies when I can't take it any longer, a Tide-to-Go pen because I am always spilling on myself, contacts rewetting drops, Bliss Spa lotion
(this has a smell that doesn't make me want to gag)
, a lighter
(I don't smoke but back from my wedding coordinator days I carry one because there always seems to be a situation where one can be useful)
, BodyGlide
(for days when my shoes or thighs are rubbing)
, Sephora comb
(the BEST! My sister got this for me one year for Christmas and it doesn't cause static like other plastic combs.)
, face wipes
(they also take off makeup, and have even taken stains off clothes in a pinch)
, crayons
(have toddler, will entertain)
.  I usually have a few quarters in here as well in case of an unexpected parking meter.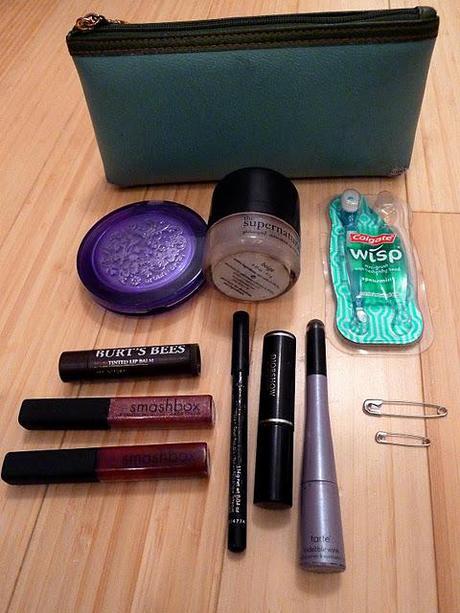 My cosmetics pouch, which is in need of replacement - Urban Decay De-Slick
(for oil slicks without too much makeup),
Philosophy The Supernatural in Beige
(for long days as a makeup refresher - goes over other makeup without looking cakey)
, Colgate Wisps
(I keep a toothbrush and paste in my office, but when out and can't brush I always have a couple of these in my bag),
Burt's Bees tinted lip balm in Rose
(works as a blush in a pinch)
, two Smashbox lip glosses
(one bright pinkish red - Tease, one shimmery sheer pink - Radiant)
, black Avon eye pencil, DiorShow black mascara, Tarte Indellible Wink in black
(black shadow on one side, liquid liner on the other)
.  With this kit, I can redo my face before an after-work event, freshen up my face mid-day, or easily take a day look and glam it up for evening.
***
Not too exciting.  I keep my purse pretty simple and organized, even more so now that I have a child.  With Emerson I often also carry a wetbag with some cloth wipes and a diaper in case of emergencies, a sippy cup, a couple toys, maybe a pair of mittens.  It's far easier to keep her stuff separate from mine by having all my stuff compartmentalized. On a work day, I may also add a book, a small travel umbrella, and my travel mug after consuming my coffee
(I put a page from the newspaper in it to keep it from leaking and then can compost or recycle the paper at the end of the day)
. 
How do you keep your bag organized?  If you have a post about the contents of your bag, be sure to link to it in the comments!

Sabina Bags

Follow Me | Twitter | Facebook