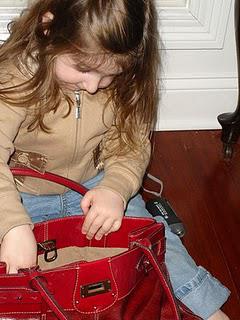 It's been almost three years since I came to the Netherlands and I've changed a lot in that time. I'm more adventurous and independant. I also like to think I'm more open-minded and worldly. My ideals and goals and relationships are different.
These changes are evident in so many things: the way I dress, how I carry myself, and what I keep in my purse.
Yes, I said what I keep in my purse.
Sometimes, ladies, a different environment, lifestyle and attitude dictates what you carry around in your handbag.
So what's in my purse?
My wallet
complete with
Dutch driver's lisence
,
verblijfsvergunning
,
bank cards
(personal and company), a
fold-out map
of Utrecht,
discount stamps
for Pipoos and Beadies, Gamma and Body Shop
customer cards
,
insurance card
,
OV-Chip Card
,
Makro pass
, a two-year old
coffee card
from my days studying at the Volksuniversiteit, my
Museumkaart
, a MediaMarkt
gift certificate
, a
cheat-sheet
with important numbers and phone numbers, a
class card
for Studio Lombok dance studo, and my
hospital appointment card
. Very rarely do I have any
Euros
on me. A little carry over of my American ways, I guess
My agenda
where I also keep
business cards
,
addresses
,
notepaper
and a
pen
.
Glasses and sunglasses
. Not that I use my sunglasses that often here, but they're there just in case!
A small digital camera
. I'm still enough of a newbie that I sometimes see somthing I simply must take a picture of.
Passport holder
containing my
US passport
, my
US driver's lisence
,
US bank cards
, my
Metro card
, Victoria's Secret and Regal Cinema
customer cards
, and my
Delta Airlines flight pass card
.
A little shower cap sort of do-hicky for my bicycle seat
to keep my bum dry when it rains.
A travel-sized umbrella
. I have never regretted carrying this item.
Baby wipes.
Sadly, they're for me. Mostly for wiping up any mess I make on myself (or in the car, or on my bike or... well, anywhere and everywhere), but I also use them to clean my glasses.
Cosmetics bag
with
lotion
,
anti-bacterial handgel
, a
brush
, a
hair tie
,
lipstick
,
painkillers
, and
dental floss
.
Tissues
and lots of them. There's something about the atmosphere here in the Netherlands that has turned my sinuses into a Dutch boutique in the city center in the afternoon on a Saturday and my nose into a marathon runner.
Chapstick
.
A pen
.
A massive collection of keys
(for the apartment, apartment building, storage shed, mailbox, bicycle lock, my parents' house, a friend's house) being kept company by
several keychains
(Nijntje, an old ornamented key that no longer goes to anything, Mater from
Cars
),
customer cards
that double as keyrings (Borders, PetSmart, A.C. Moore, CVS Pharmacy), and a
storage drive
with money on it for making copies at the Hood College library from when I studied there in 2007.
And, in case you were wondering, yes, my purse is pretty massive in size. Good thing too. Because when my husband's around things like his keys, the car radio, GPS, his sunglasses, and the car keys seem to magically appear in my purse as well. Oddly enough, this is the same husband who used to get on my case for carrying such a ridiculously large and heavy purse.
If you're coming to the Netherlands and are wondering what kinds of things you might want/need to add to your purse, here's a list of ten things you definitely want to consider.
So, fellow expat ladies, it's time for you to weigh in. What's in your purse now that you're an expat? Please share in the comments.
Photo: shawnzrossi, Flickr

Did you enjoy this post? Subscribe via rss feed or email to catch the latest from Clogs and Tulips: An American in Holland.
©2011, Clogs and Tulips: An American in Holland. All rights reserved. On republishing any part of this post, you must provide a link back to this original post