Note: Be sure and read this piece because there's a

Tennis Fixation

Giveaway at the end!

I just received my latest piece from the wonderful ladies at 4all by jofit. It's the Tennis Skort in the black and white mosaic design from their just released New Orleans collection. As soon as I opened my package and saw this skort, I knew that it would go with almost everything I already own. I mean - it's black and white. I own a lot of black and white tennis gear and I bet you do too.

So, I wore my new 4all tennis skort yesterday with a black racer back top (I think red and hot pink would look good too), my favorite white hat with black trim, and the white 4all Thumbs Up Jacket they previously sent me (which I wore out square dancing, remember?). I wore this outfit all day long, to my tennis lesson, to tennis drills, to the mall and to my son's elementary school, to the grocery store, and to dinner. I even made my husband come out and hit balls with me so he could take some pictures of me. So, for your viewing pleasure, here's a few shots of me in my new 4all skort after over 12 hours of wear and tear: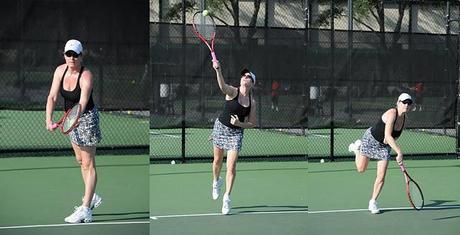 Here's what I'm thinking - the skort looks great. My service form leaves a lot to be desired.
Well, I love my new tennis skort and I think you would love one too. That's why I'm very, very pleased that 4all is giving me a second New Orleans Tennis Skort that I can give away to one of my wonderful
Tennis Fixation
followers! It will even be in your size (because we'll figure that out after you win). How do you get a chance to win this lovely item? Easy!
For your FIRST entry, leave me a comment on this post before midnight Central Time on April 1, 2011. Be sure and use the comment form found at the bottom of each post (just click where it says "0 comments" or "23 comments" or whatever number of comments, don't click on the little envelope because that just sends an e-mail to me and no one else can see that you've entered). You can do this one time for this post. Just go ahead and leave a comment right now so you know you're entered!
For your SECOND entry, visit the 4allbyjofit website (click here: www.4allbyjofit.com), click on the words "Tennis Apparel" at the top of the page, pick out your favorite piece, and then come back here and leave a comment below, telling me what piece you just love.
For additional entries, leave one comment on each post that appears between now and midnight Central Time on April 1. I'll try to do several posts so you have lots of chances to comment (and enter).
Here, today, right now, you can comment and already have two entries. And then you can continue to comment and gain entries throughout the week! I will draw the winning entry after midnight on April 1 and announce the winner on April 2.
BONUS:
4all knows how you're ready to update your athletic wardrobe for spring. So, from March 28 to 31, they're offering a 20% discount on skorts ordered off their website (click on this link: www.4allbyjofit.com to start shopping). Just use the code SPRING11 at checkout.

© Kim Selzman 2011 All Rights Reserved