If I knew how to bake, I would invite all of you, my friends, to Mustachio's Kitchen. Since I only know how to burn a cheese sandwich in an oven toaster, let's just go over to Marissa's Kitchen in Talamban for some proper baked goodies.
Marissa's KitchenGo–Shen Building, Gov M Cuence Ave, Talamban (just after Piazza Elesia)(032) 317 1076Monday to Saturday 9AM to 9PM



I have always loved Mrs Marissa Unchuan's (yes, the wedding cake maker extraordinaire) classic silvanas and, back when her baking venture was just home–based, would occasionally and, though anyone was welcome to do so, timidly pop over to Mrs Unchuan's house to buy a pack.
Since she opened Marissa's Kitchen in Talamban a few weeks ago, I can now confidently march in and tow friends along without worrying about disturbing her home to buy a pack of classic silvanas. And more. It was here that I discovered she created more than just wedding cakes and silvanas.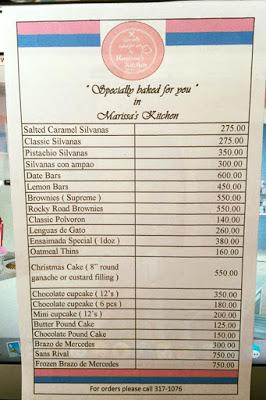 Product menu (click to enlarge)Missing from the menu are: tostados (Php180),choco krunch (Php180), prune cake (Php280), 6" cakes (Php350)
Marissa's Kitchen has readily available goodies for walk–in customers: silvanas, polvoron, lenguas de gato, ensaimada special, oatmeal thins, tostados, choco krunch, cupcakes, prune cakes, and 6" cakes. Silvanas can be bought at the Kitchen at Php 20 apiece, and cakes can be sampled by slice (around Php 55 per slice) and paired with coffee. The rest would have to be pre–ordered.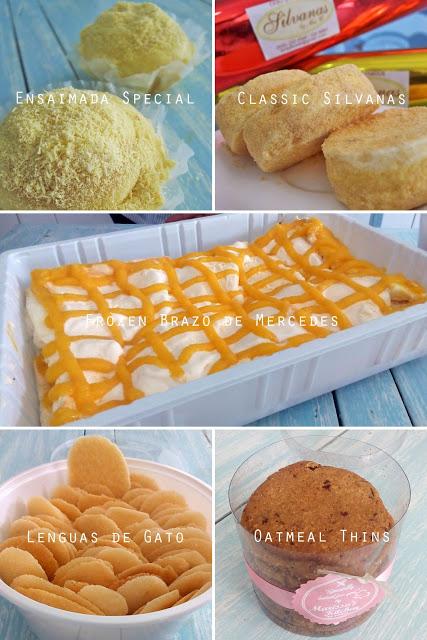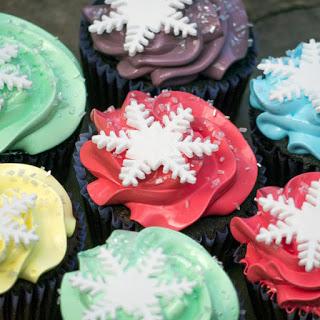 Chocolate cupcakes
I haven't dug my teeth through all her goodies, but from what I have tried—classic silvanas, chocolate cupcakes, black forest cake, ensaimada special, frozen brazo de mercedes, lenguas de gato, and oatmeal thins—not one disappointed me. (My favorites would have to be the classic silvanas, ensaimada special, and frozen brazo de mercedes.) Only the scales groaned in disappointment under my weight after eating all these goodies.