A glance at any of the advertising landscapes below will tell you that the ad tech market has become fragmented over the past few years. Ad tech vendors serve increasingly separate parts of an ever expanding marketplace. New channels for mobile, native, programmatic, and video emerge frequently. These technologies are often quite specific, single-point solutions, and publishers want to take advantage of them all, but the task of choosing which technologies to implement and which companies to choose has become a daunting challenge.
Nowadays, publishers want more than just a well-connected SSP and an ad server. Not only do they need to access plenty of buyers, but they're required to have appropriate measurement, attribution, and verification tools to help them assess audience data and get a handle on viewability. In the end, publishers have two choices: go through the annoyance of integrating several vendors at once or partner with a full stack that can address all their needs at once.
What exactly is a full stack?
A full stack solution addresses each of a publisher's challenges. Cross-platform and cross-channel, it allows publishers to deliver advertisements on the right device, in the right format, at the right time. In addition, a full stack supports yield management, which lets direct and programmatic sales compete and, in turn, offers publishers the best price available. The ad server is the center of operations and has all the information needed to properly deliver campaigns. A full stack has a complete view of all inventory as well as each buyer-seller commitment, which means it can address publishers' needs by allowing for holistic campaign management.
Not all full stacks are the same
There are two types of full stacks. One, which is all too common on the market today, consists of a patchwork solution which emerges from a company that first specialized in one area, then acquired market solutions and integrated them into their existing framework. A Rube Golberg machine made up of disparate single-point solutions.
The second type of full stack is a solution whose parts are built to work together as a cohesive unit. This type of breed builds — within its walls — whatever tools or technologies are next in the natural order of things. The success of such an organic full stack is due to a deep-seated knowledge that is honed through its natural development.
Having emerged from its roots of being publisher-owned, Smart AdServer has always focused on building upon its ad server, adding Rich Media branding capabilities, a mobile component, advanced video advertising and built-in RTB capabilities. Not only is this a cost-effective approach for publishers, but it's also the best way to ensure a quality ad-operations experience. All intelligence, template management, product design, and development has occurred holistically, providing publishers with a full stack they can appreciate, particularly in a market that is more fragmented than ever.
Smart AdServer's Full-Stack Solution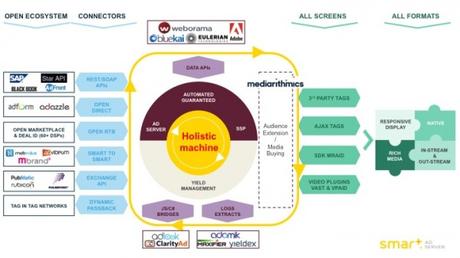 Advertising Landscapes