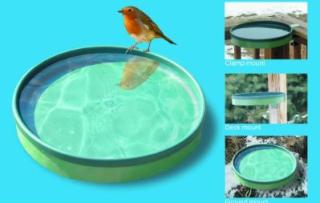 3 in 1 All Season Heated Birdbath When I was a kid, we used to have a bird bath in the backyard.  I remember my mother telling me that it was important to always have clean water available for the birds, because birds could always find something to eat, but it's harder for them to find something to drink.  Come winter though, and all they found in our backyard was ice. 
At the Global Expo last month, Farm Innovators introduced its clever new 3-in-1 All Seasons Birdbath, and it's a pretty neat 'watering hole' for backyard birds....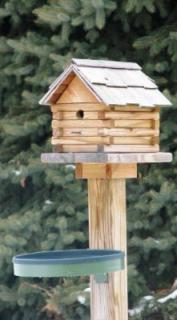 3 in 1 All Season Heated BirdbathFirst the heat; the All Season's Birdbath is themostatically controlled to keep the water at 75 degrees, so you don't have to worry about ice.  And in the summer, this temperature is still cool enough to be refreshing to drink or take a splash.

What's the 3-In-1?  The mounting system enables you to 1) place the bird bath on the ground; 2) clamp it to a vertical structure such as a standing bird feeder; or 3) clamp it to a horizontal structure such as a railing.

You will need to rinse and refill the the All Seasons Birdbath daily, as it is shallow, but that way you keep the water nice and fresh for the birds. Pricing compares very favorably to other heated and non-heated bird baths at Amazon.com.

 

That's the buzz for today!