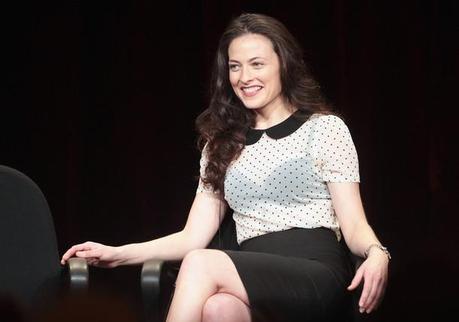 HBO's hit show True Blood season four seemed to be all about the fairies.  They started the season out in the fairy world where you would eat the glowing fruit, which made you see them as a beautiful creator.   That is until the fruit wore off then you saw them as the monster they are.   We all remember Lara Pulver (Claudine) playing Sookie Stackhouse's (Anna Paquin) fairy godmother.  But Eric (Alexander Skarsgard) quickly killed her when he drank up all of her blood.
The fairies haven't left Bon Temps just yet.  Camilla Luddington will be playing the fairy Claudette when the fairies are rebooted for the up coming season.  But of course we want to know what the original fairy of True Blood thought.  Lucky for us Zap2it was able to speak to Laura to find out what she thought.
"'True Blood' takes so many risks.  On that basis I wouldn't change anything because I like the way it goes off track and into dark places. Maybe I would make Eric reincarnate me after he sucked the life out of me. Oh, also I would want Sookie and Claudine to have a little chemistry — maybe that would've thwarted me protecting her if she had been a little more emotionally invested."
It's always interesting to find out what the actors think.  Also make sure to tune into the season 5 premiere of True Blood on June 10 on HBO.
Source: Zap2it.com- "'True Blood' fairies: What Lara Pulver would have changed"
Image Credit: Getty Images