As in fashion, jewelry also has its seasonal trends.  For Summer 2014, there is a huge movement toward "organic".  This nature inspired trend leads to jewelry that is made out of natural materials, using shapes that are softened and less structural.  As you can see with especially men's jewelry this season, a great amount of mixing of leather and metals is going on.  The leather gives jewelry a rugged, natural look, while the metals like silver, brass, and gold give the jewelry life with an earthy glow.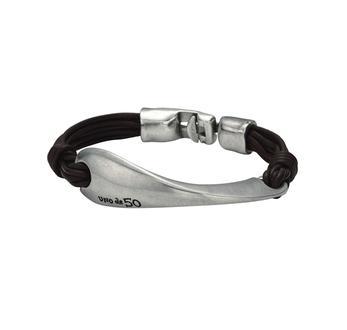 The one place I have in mind that has a selection of men's jewelry fits right in with the organic trend can be found at the uno de 50 store.  One of my favorite pieces is this Aura brown leather and silver bracelet.  It has the intertwined strands of dark brown leather to wrap around the wrist and attach to the asymmetrically curved silver bar in the front.  The bold toggle clasp balances the front nicely and it gives it strength and dimension.  It is a virtual bargain for $99 with the amount of silver alone.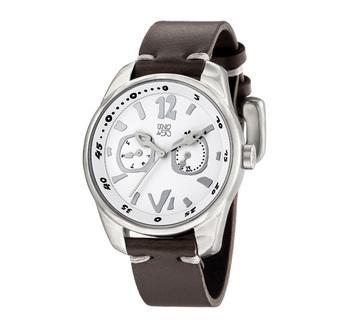 Another men's jewelry accessory that is great for summer, but also can be season-less, is the Pero Sin Pausa black leather strap watch with the white dial and organically shaped numerals and subdials.  The white face contrasts nicely with the richness of the black leather and makes a great backdrop for showcasing the unusually numerals and subdials.   It is a little pricey at $349, but it is a fun take on a classic style of watch.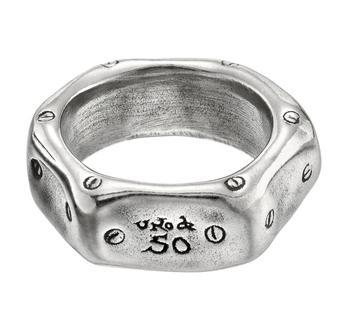 To complete you summer jewelry look from the wrist down, is the Aprietame Uno de 50 silver hexagonal ring for $99.  The shape is unusual with the six sides and the slightly concaved sections and will be more of an attention-grabber that your average silver ring.  Also, the "screw-like" imprints along the edges and sides give it a nice industrial feel. Notably, some similar but more "feminine" pieces are available in uno's online woman's jewelry store.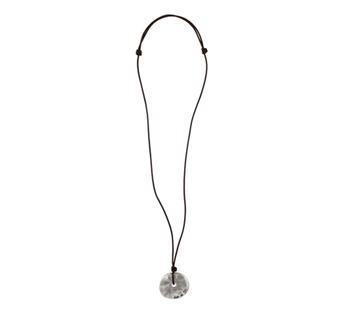 Last, but not least, if you want to add a little something to your summer look, but are more of a minimalist at heart, then the Comete Un Rosco silver and brown leather necklace with the adjustable neck and the hammered coin medallion for $65 may be just what you are looking for.  Its thinner leather necklace can be worn bare-chested at the beach or with a great t-shirt and cargo shorts,.  Also, the organically shaped, hammered silver coin medallion makes an interesting conversation piece.