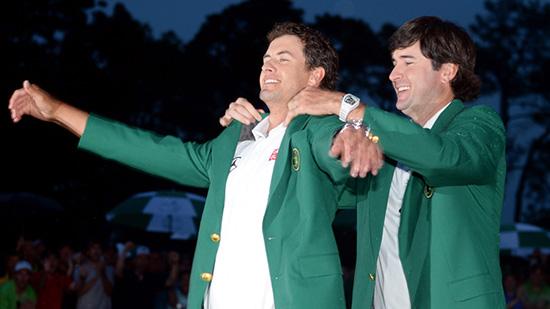 If there was ever any doubt about the thrill of the Masters, yesterdays final round should have dispelled them all, as it had me on the edge of my seat.  Watching players make their way through Amen corner and down the home stretch of holes was nerve racking.  It seemed three players were in close contention, but Jason Day would falter on 17, leaving us with two, Angel Cabrera and Adam Scott.
When Adam Scott birdied number 18 to slide him into the lead, it was easy to see the excitement he felt from his Masters performance.  As he went to the clubhouse and waited, Angel Cabrera wasn't ready to give up the fight as he nestled his approach on 18 close to the pin leaving him a tap in to force a playoff hole.  
After both players playing side by side on the first playoff hole, Adam Scott's Masters dream came true on the second playoff hole where he holed a lengthy putt to make him birdie, after Cabrera missed his putt by inches.
Here's a closer look at the scores from Adam Scott's Masters tournament:
Round 1: 69 (3 under) - 4 Birdies, 13 Pars, 1 Bogey
Round 2: 72 (Even) - 3 Birdies, 12 Pars, 3 Bogeys
Round 3: 69 (3 under) - 4 Birdies, 13 Pars, 1 Bogey
Round 4: 69 (3 under) - 4 Birdies, 13 Pars, 1 Bogey
Total: 9 under par - 15 Birdies, 51 Pars, 6 Bogeys
Adam Scott played consistently through the entire tournament and was able to keep his composure into the playoff holes when there pressure, excitement and emotion must have been intense to say the least.  Many knew heading into this event that it would very likely come down to who had the best short game.  With some of the most challenging greens in golf, ball placement was a key element.  Scott was spot on with his short game, reaching 55 of 72 greens in regulation, more than any other golfer in the field.
Here's a closer look at of few of Scott's statistics...
Avg Driving Distance: 293.8 yards
Driving Accuracy: 57.14%
Greens in Regulation: 76.39%
Congrats to Adam Scott for winning the 2013 Masters, and becoming the first Australian in Masters history to wear the green jacket.
- - - - - -
This article was written by Scott Stevens from Eat Sleep Golf as part of our What It Takes To Winseries. This series is focused on taking a closer look at the winning performance of each PGA Tour event to see exactly what it takes to be victorious among elite golfers.
Please feel free to comment below, or continue the conversation with us on Facebook (www.fb.com/eatsleepgolf) and/or on Twitter (@EatSleepGolf).