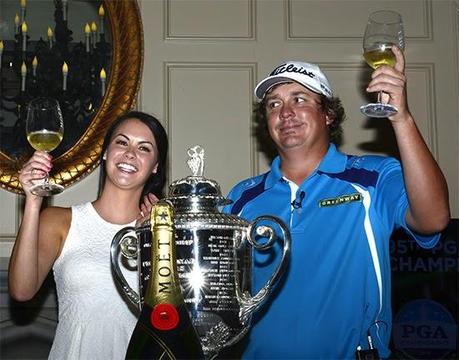 This weekend in a fantastic event, the 95th PGA Championship, Jason Dufner finished victorious and celebrated his first PGA Major victory.  This accomplishment was made that much more special for Jason as he shared it with his wife Amanda, toasting the moment with a crystallized 3 liter bottle of
Moet & Chandon
, the official champagne of the PGA.
This was undoubtedly a special win for Dufner, coming not only was his first career Major victory, but also his first PGA Tour win of 2013.  Here's a look at Dufners stats from the PGA Championship:
Round 1: 68 (2 under) - 5 Birdies, 10 Pars, 3 Bogeys
Round 2: 63 (7 under) - 1 Eagle, 5 Birdies, 12 Pars
Round 3: 71 (1 over) - 2 Birdies, 15 Pars, 1 Bogey, 1 Double Bogey
Round 4: 68 (2 under) - 4 Birdies, 12 Pars, 2 Bogey
Total: 10 under par - 1 Eagle, 16 Birdies, 49 Pars, 6 Bogeys, 1 Double Bogey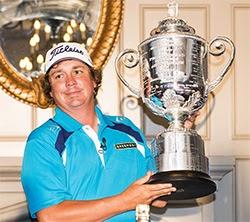 After a solid opening round 68, Dufner followed it up with an amazing record tying 63 in round two.  Despite that great round, the tournament was far from in the bag as Jim Furyk and others were hot on his tail.  Heading into the final round Dufner actually found himself one stroke behind Furyk.  On Sunday, Dufner rose to the occasion, at least for the first 16 holes, and then stumbled through the last two holes going bogey bogey.  
Regardless, when all was said and done, Dufner was the one hoisting the trophy and drinking the champagne!  
I look forward to seeing Dufner play in the remainder of this season an in 2014.  Congrats to Jason Dufner on a fantastic victory at the PGA Championship.
- - - - - -
This article was written by Scott Stevens from
Eat Sleep Golf
as part of our What It Takes To Win series. This series is focused on taking a closer look at the winning performance of each PGA Tour event to see exactly what it takes to be victorious among elite golfers.
Please feel free to comment below, or continue the conversation with us on Facebook (
www.fb.com/eatsleepgolf
) and/or on Twitter (
@EatSleepGolf
).