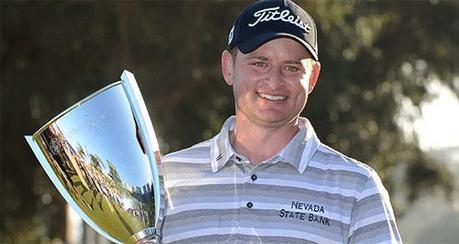 Merrick (a 150/1 favorite when the tournament began) shot 68-66-70-69 throughout the week and made a par on the second hole of the playoff (the famous No. 10 at Riviera) to beat Beljan who made bogey.
There was a lot of drama on the back nine of the Northern Trust Open but UCLA graduate, John Merrick, who was born 45 minutes from Riviera in Long Beach, Calif., prevailed in a two-hole playoff over Charlie Beljan. Merrick defeated Beljan on the second hole of their sudden-death playoff, winning with a par after Beljan bombed his tee shot left and into the trees, from where he ended up making his second bogey of the day there.
Let's take a closer look at the breakdown of Merrick's tournament and what it took to win the Northern Trust Open...
Round 1: 68 (3 under) - 6 Birdies, 9 Pars, 3 Bogeys
Round 2: 66 (5 under) - 6 Birdies, 11 Pars, 1 Bogey
Round 3: 70 (1 under) - 2 Eagles, 1 Birdie, 11 Pars, 4 Bogeys
Round 4: 69 (2 under) - 1 Eagle, 6 Birdies, 10 Pars, 1 Bogey
Total: 11 under par - 1 Eagles, 17 Birdies, 43 Pars, 10 Bogeys
Merrick played a pretty consistent event, and had to keep his cool not only on the home stretch, but also into the two hole playoff.  I'm always impressed to see how players are able to handle the pressure that comes along with the spotlight, especially for Merrick who was fighting for his first PGA Tour win.   
After looking a little deeper at some of the stats (see below), by combining long drives with few putts, Merricks performance was impressive.  Merrick hits it long off the tee with an average driving distance of just under 300 yards and he was able to follow that up with some great putting averaging about 1.5 putts per hole.  Have a look...
Avg Driving Distance: 298.6 yards
Driving Accuracy: 53.57%
Greens in Regulation: 63.89%
Avg Putts per Round: 27.5 (Avg of 1.53 putts/hole)
Congrats to John Merrick on an amazing performance and on getting his first career PGA Tour victory  at the Northern Trust Open!
-  -  -  -  -  -
This article was written by Scott Stevens from 
Eat Sleep Golf
 as part of our What It Takes To Win series.  This series is focused on taking a closer look at the winning performance of each PGA Tour event to see exactly what it takes to be victorious among elite golfers.
Please feel free to comment below, or continue the conversation with us on Facebook (
www.fb.com/eatsleepgolf
) and/or on Twitter (
@EatSleepGolf
).