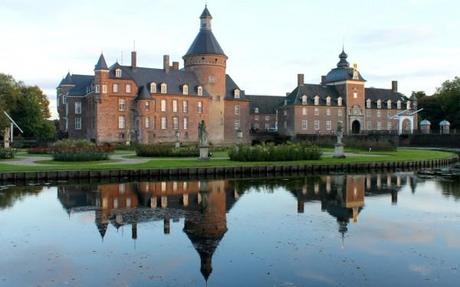 Like many girls, I dreamed of being a princess, not one of those damsels in distress but a kick-ass smart modern princess.  Having not a drop of royal blood, the only way to realize that dream would be to marry a prince.  That dream faded last year when I married J.P., a rather handsome, kind German man who would not only put up with my crazy shark diving adventures, but would actually join me in them.  It more than made up for the fact that he alas, had not a drop of royal blood either.
And so my dream of being a princess faded…until I had the opportunity to stay at the Romantik Parkhotel Wasserburg Anholt, a castle hotel in Isselburg, Germany.

The Romantik Parkhotel Wasserburg (Burg means a castle in German), is not just any castle, it's one of the largest water palaces in the entire Münster region.
It dates back to the 12th century when its purpose was to protect the surrounding prefecture. Today its purpose is much more civilized – for guests to unwind, enjoy and relax, and in my case pretend I was a princess.
The castle hotel grounds are extensive at 42 ha and include a historic garden, wildlife park and 18 hole golf course.  As I strolled around the gardens, I found myself holding my head a little higher, as if I really was a princess who was going for a walk in the garden with her attendants.  Never mind that in my warm wool coat, this was all a figment of my imagination :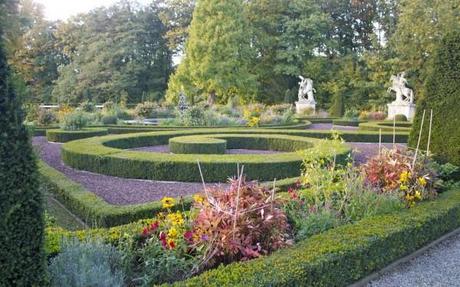 There's also the on-site Museum Wasserburg Anholt which features a large collection of Salm-Salm paintings:

I pretended I was actually knowledgeable about art and acquainted with the people in the paintings as I silently made comments like Oh dear, she certainly has indulged a little too much in the Foie gras.  Needless to say, it was a diversion from my normal everyday life, but a fun one!
The restaurant was an addition to the castle hotel so that guests could enjoy the ambiance of the grounds.  In warm weather, there's outdoor seating.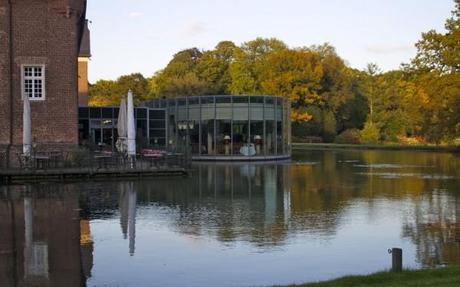 The cuisine is regional with a Mediterranean influence.  A fine selection of wines is also served.  I certainly felt like a royal when I was served this chocolate ice-cream filled castle dessert, but then again
doesn't everyone's chefs prepare such things for them? Tsk
: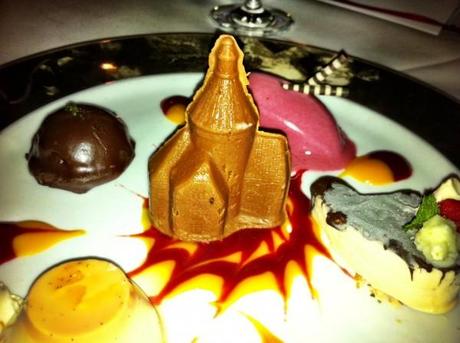 I was really looking forward to sleeping in a castle hotel, since it would feel like the castle was my home.  Each of the 31 rooms are unique and feature different paintings.  My room was lovely, although it didn't resemble what real royalty's bedrooms look like and (gasp) there was no
Lady in Waiting
to help me get ready for bed: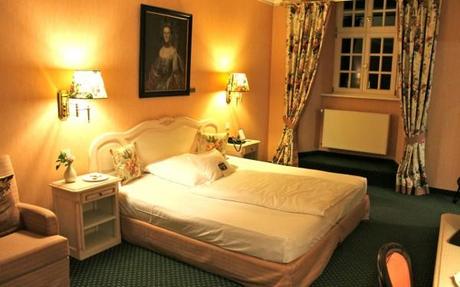 Fortunately my view of the draw bridge and Rose Island, compensated for the lack of my lady in waiting: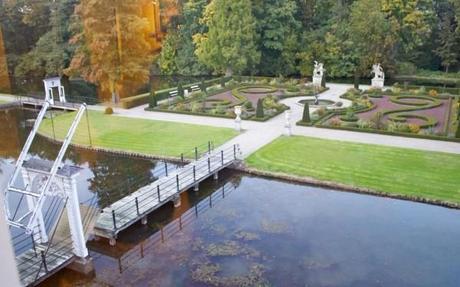 I felt Romantik Parkhotel Wasserburg reluctantly.
Staying in a castle hotel definitely made me feel like a princess – even if it was just for one day!
Know Before You Stay in a Castle Hotel in Germany: