The 'perfect girlfriend' is 5ft 5 inches tall, drinks white wine, has no tattoos and supports Manchester United, it has been revealed. A study of 2,000 men also found that men like a woman with an Irish accent, who drives a Mini Cooper, is a meat-eater and loves a roast dinner.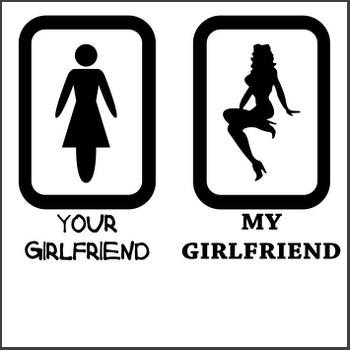 Weighing a healthy 9st 2lbs, she's a 34C who enjoys listening to a bit of rock music and her favorite movie is the Patrick Swayze classic – Dirty Dancing.
British men would like to date a nurse or a teacher with brown hair, and think it's more attractive if she wears makeup – but only subtly.
The poll by location based dating app LOVOO revealed that when asked to choose a celebrity who resembles their perfect girlfriend, Kelly Brook was the most popular choice, followed by Cheryl Cole then Jessica Ennis and Denise Van Outen.
Game of Thrones is her current favorite television show closely followed by Coronation Street, Friends, and Match of the Day.
The research was run by the location based dating app LOVOO, to promote their radar function, that allows you to search for the perfect girlfriend near you.
Benjamin Bak, Founder of LOVOO said:
"It seems that British men have very specific tastes for a girl to live up to.
"We know that everyone has a favorite hair color and sometimes even eye color and height.
"But we think that avoiding a woman because she might support an opposing football team or enjoy a different genre of films to you, might be being a bit too picky.
"We encourage meeting up with people you share interests with, but suggest not being too strict as you might find that you get to learn something new.
"Dating is fun and shouldn't become a chore or make you feel as though you won't ever find 'the one'.
"Being more open to new things will certainly help you find that perfect girlfriend."
It was also found that the perfect partner enjoys a wide range of hobbies, with reading, going out to dinner and traveling as their favourites.
They also love to go to bars with their friends, watching a live band every so often and are careful with what they eat – without being too strict.
Men like a girl who likes to watch football and would prefer them to wear either skinny jeans or miniskirts.
Researchers also found that the perfect girlfriend needs to be adventurous in the bedroom, is happy to embark in a bit of role-play and experiment with different positions.
And men don't want a woman who can just impress them; they want a girlfriend who will get on with the other important woman in their life too – their mom.
But after all that, three quarters of the single men who responded to the study said they don't think they will meet their perfect woman and will have to compromise instead.
And more surprising still, two in five men already in a relationship think their current wife or girlfriend isn't the perfect woman for them.
Benjamin Bak, Founder of LOVOO added:
"It is very surprising that so many men who are currently in a relationship, feel as though they aren't with the right woman for them.
"And it's sad to see that some single men don't believe the perfect woman exists.
"We want to show these men that we don't agree, there is someone out there for everyone.
"And if they're lucky they might even find their perfect  woman in time for Valentine's Day"
THE PERFECT GIRLFRIEND
Brown hair
Blue eyes
5ft 5" tall
9st 2lbs
34C chest
Irish accent
No tattoos
Has to get on with mum
Works as a nurse
Likes rock music
Loves football
Supports Manchester United
Eats roast dinners
Meat eater
Drinks white wine
Favourite TV show: Game of Thrones
Favourite film: Dirty Dancing
Drives a Mini Cooper
Enjoys reading, eating out and travelling