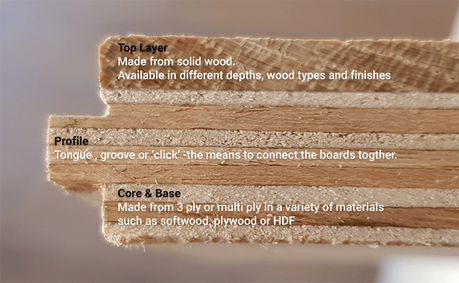 Engineered wood is created from different layers of timber. The top layer is real wood, the same that creates solid wood flooring, but this is fused with layers of softer wood or HDF under high intensity conditions. This process of layering means the engineered wood floorboard has more durability. The layers allow the floorboard to adapt to changes in heat and moisture conditions without permanently shrinking or warping.
Engineered wood flooring is suitable for a hallway, bedroom or living room.
What variations does Engineered Wood have?
As well as different number of layers engineered wood flooring has a lot of other variations. These include:
Thickness: engineered wood flooring comes in thicknesses from 10mm to 22mm.
Board length and width
Finish: everything from lacquered through to distressed.
Installation variety: Click Lok or tongue and groove
Colour: a massive range of colours are available including 

white

, 

black

 and 

smoked
What is Laminate flooring?
Laminate flooring is a lot different to wood flooring. Although in some instances they looks similar, they are in fact very different. Laminate flooring has the printed effect of wood or stone. It is also more suitable for homeowners who have pets and clean very frequently because it is very easily maintained.
The thickness of our laminate flooring, here at Flooring 365, ranges between 7mm and 14mm.
Laminate is also seen as a budget floor as engineered wood flooring can be quite expensive for some people. With the added benefit of click together joints, the buyers could install this themselves without having to pay a floorer.
As seen in the diagram above it shows what a typical piece of laminate would look like. The resin top layer is a printed effect of wood/stone.
The second point of the diagram is the 'Click together joint', essentially the clue is in the name – the joint clicks with the other laminate piece and they join together, which is very helpful for installation.
Although it is easily cleaned, if damaged, laminate flooring can be hard to repair. Laminate flooring is recommended for all areas of the house, apart from bathrooms.
Overall, there is a big difference between Engineered Wood and Laminate flooring. For customers who are wanting a floor which is wooden, thick and has different finishes, then Engineered wood flooring is for you… Shop here: https://flooring365.co.uk/engineered-wood.html
For customers who want more of a budget floor which is easier to clean, not as thick and is easy to install, then Laminate flooring is for you… shop here: https://flooring365.co.uk/laminate.html