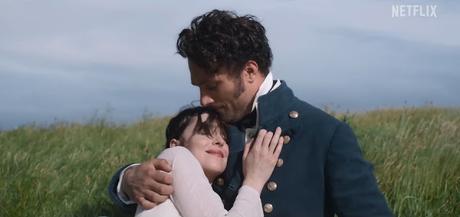 (by guest blogger Lizzie Nelson)
Along with everybody else, I have been counting the days until the new Persuasion is released. Good or bad, I will lap it up.
I often wonder what it is about period dramas that captivate me so. Why are they so incredibly fulfilling? At 56, I am past the age of seeing myself as a Jane Austen heroine; unaware of her compelling yet understated beauty, quick witted, independent,resigned to spinsterhood and then finding love.I am married and jolly content, I am in my own happy ending and have not the slightest yearning for excitement and romance… I think.
Perhaps the appeal of period dramas is that they offer a window on the past; a journey we cannot possibly make. They are also somewhat intellectual and satisfyingly complex and I wonder if that is simply because they are adapted from novels mostly written at a time when language was an art and literature was nigh on the only form of escapism from hardship and dissatisfaction. Personally, I enjoy adaptations from Thomas Hardy books over something like Bridgerton. I love looking into the lives of common villagers, soldiers, farmers; people without fortune but whose contentment is found in simple pleasures like a meal of bread, cheese and ale on an arduous journey, of good harvests, midsummer dances or glimpsing your sweetheart at church of a Sunday. Heartwarming and satisfying human events and romantic in the purest sense.
And so, I suppose I do crave romance after all. I suppose, as a middle-aged woman, however content, I do indeed hanker after things I cannot have because I would give anything to still turn heads, to wear my best dress and dance in a candlelit hall, to ride across the moors or even fall through a stone circle into the arms of a burly 18thCentury Sco…Okay! I admit it! Take me away, Laddie!
Period Drama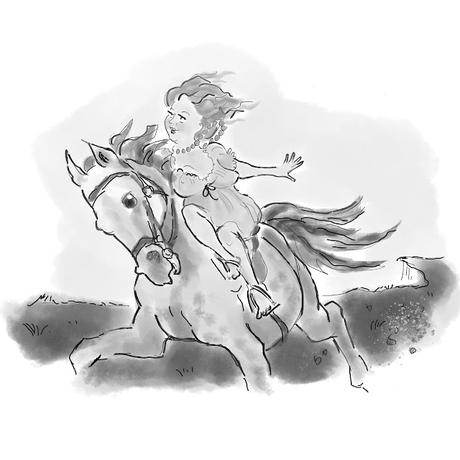 I love period dramas,
I watch them all;
those tales of the poxed and the beautiful,
the lush landscapes, the costumes,
the lovelorn and lusty.
I eat up every candlelit ballroom
and every field in harvest.
Each well-appointed townhouse
to every dusty hayloft.
I love the highborn in billowing silks and velvet,
and the sweaty laborer in open-necked muslin.
I love the children in their pantaloons,
I love the grubby urchins.
I want flowers in my hair
and God-knows-what on my shoes.
I am born out of time.
I am a girl of Melstock, of Casterbridge.
I am a Warleggan. No! I'm a Poldark:
I am twenty years younger and ride sidesaddle, like it's nothing,
along the cliffs
until my horse bolts
and I'm helpless.
But here comes Tom Hiddleston,
back from the wars, in uniform,
thundering toward me on his enormous black stallion.
And he pulls me onto his beast
and I am indignant
and all crushed up against him.
I struggle a teensy bit.
I say, "Where's Bess?
Get my bloody horse!"
And he is shocked but intrigued
and even a little amused by my bad language.
"You're a feisty one!" says he,
and he's right; I'm unlike anyone he's ever met
because I'm actually from 1989.
And I open my eyes
and look up at my husband
and wonder where his mutton chops and brass buttons went
and why he isn't Tom Hiddleston.
He brushes the stray curls from my face
and the dribble from my cheek
and tells me I was snoring, so he turned over to Top Gear.
And I'm back in the present.
And it's all right.
Kind of.
Lizzie Nelson
From Fair to Piddling: A Journey Through Midlife in Humorous Verse. 
Lizzie Nelson is also the author of Writing with Jane: A Jane Austen Parody Notebook.