Inbound marketing has become the marketing buzz phrase de jour but while businesses are becoming more aware of the need to produce content and engage with customers online; the actual methodology and meaning of inbound marketing often seems a little opaque. This can leave marketers wondering exactly what inbound marketing is, how it works and why it is important.
We've endeavoured to answer these very common questions in this post, using our own inbound experience.
The Good Old Days
Traditional marketing placed high importance on outbound methods with broadcast and print ads and paid search fundamental to campaigns. These methods were effective too – they worked. They got results. So why is there any need for change?
Well, the need for change has been driven by a new type of customer – the connected customer. The connected customer is discovering content in new ways and becoming adept at sidestepping marketing messages. They can record programmes on digital recorders and speed through the adverts, avoid banner advertising on websites and talk to brands directly on social media.
With the rising popularity of smartphones and mobile devices, customers have become more discerning and empowered, leveraging the Internet to research products and services before they've even reached out to your business.
This is forcing online marketers to find and engage with their customers in the places they want to be.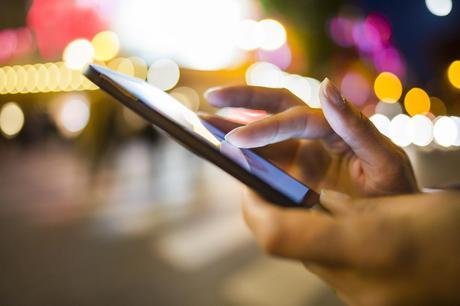 So What Is Inbound?
Inbound marketing is founded on the principle of creating and sharing quality content that attracts the right people to your website.
Creating content that appeals to your ideal customers naturally attracts pre-qualified leads to your business, helping you find people who are looking for your product or service at just the right time. Inbound combines SEO, social media, content, email and analytics, underpinned by a compelling methodology, helping you apply proven process to your digital marketing activities.
The Inbound Methodology
The methodology outlines four main stages, guiding visitors to become leads, leads to become customers and customers to become promoters of your brand.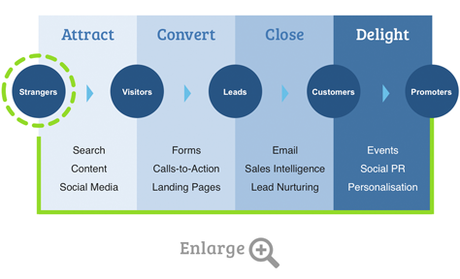 Click here for more details on the process of inbound marketing.
Why Should I Consider Inbound?
Put simply, inbound marketing has evolved to appeal to the connected customer, so aligning your online marketing activities with what your customers actually want has become a crucial consideration.
Here are some key benefits worth considering:
• You are helping your customers by creating targeted content that answers your customer's basic questions and needs.
• Inbound is a lifecycle marketing method, recognising that people move through stages as they engage with you, and that each stage requires different marketing actions.
• It fosters personalisation, which is important to the connected customer.
• Inbound encourages campaigns to be multi-channel by nature as it approaches people in the place where they want your interaction.
Tools and Services
Inbound isn't easy, especially if you're unfamiliar with creating content but there are a range of tools and services available to help you.
• HubSpot – one of the original exponents of inbound marketing, offering a full software package of all inbound disciplines.
• Hootsuite - social media management tool that offers engagement monitoring and tracking.
• Campaign Monitor – email software that sends campaigns and tracks results.
• Wordpress – one of the best-known blogging platforms.
It can be difficult to know which service is right for you so don't be afraid to seek a professional opinion on what to choose – better to get advice than invest in a system on a guess.
Want to Know More?
This is a whistlestop tour through inbound marketing so if you want to go deeper, we like these resources.
• Prezi
• HubSpot
Are you thinking of implementing an inbound marketing strategy? What do you see as your biggest challenges?