The art of connecting your social media, blogging, content creation and search engine optimization efforts all in to one cohesive marketing strategy!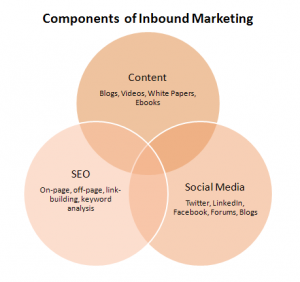 A lot of people ask me what it is that my company does. Its difficult to answer that question without really diving in to the differences between old school "interruption" style marketing (outbound marketing) and the new, more intimate approach, inbound marketing. People are less interested in being interrupted by special offers or promotions from your company. Consumers are tuned out to traditional marketing channels:
86% of all television advertisements are skipped with a DVR
44% of direct mail is never even opened/looked at
>90% of people say they hate being "sold"
Compared to:
>60% of buyers make buying decisions by searching online before going to the store
The average internet user spends 3x more time on blogs and social media than they do on email
>50% of all internet users read a blog at least once a month
 9 out of 10 internet users visited a social media site once a month in 2010
1/3 internet users spends more that 3 hours online per day.
This is a small sampling of statistics that should be a big indicator to most companies that it is time to change the way your company communicates with the world. It is no longer about who has the biggest marketing budget. Small and large companies alike can now compete on the same playing field. You just have to know how.
"Businesses need to stop interrupting what people are interested in and be what people are interested in."
get your free inbound marketing assessment today 

&pid;&hsutk;
Inbound marketing is the practice of creating interesting and specific content that answers the questions people have about the products you offer. In other words, instead of bombarding thousands of uninterested people with a message they are not interested, you build your web presence to make it so that when someone is looking for the service you provide, its your company they come to for expertise and insight in addition to making buying decisions.
Social media and blogging is an effective way to create content and keep the search engines happy but it is not enough to just have a facebook page. The way you use it and market it has to be part of the bigger picture. Marketing can not be something that you do as an afterthought. Your inbound marketing strategy has to be something that is a part of your business growth model. Don't be scared to try something new and creative. Funny videos and eye catching  infographics are all effective ways of telling a story in a fresh and interesting way.
It is really about setting yourself apart from the competition in a creative and effective manner. There is a paradigm shift happening in the way people communicate. If your business is not currently considering a marketing strategy that will allow you to stay ahead of the curve you run the risk of getting left in the dust. I can almost guarantee that your competitors are looking for ways to separate themselves from you.