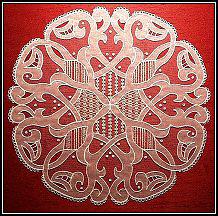 Irish Carrickmacross Lace (Photo:irishcarrickmacrosslace.com)
I'll admit that before the press release from the Royal School of Needlework's about the lace on Kate Middleton's wedding dress, I'd never heard of "Carrickmacross lace." So, kudos to Kate Middleton's wedding dress; the resurgent interest in sewing and the needlearts; and the public's interest to know details about every minutia, that schools such as the Royal School of Needlework and the type of embroidery and lace detail was mentioned right alongside with wedding dress designer Sarah Burton's name.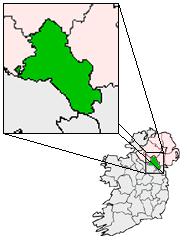 (Image source: Wikipedia)
Carrickmacross lace is a type of needle lace. Originating in the 1820′s in Carrickmacross of the County Monaghan in Ireland. It evolved from some of the appliqué lace acquired by a Mrs. Grey Porter, the rector's wife, on her honeymoon to Italy in 1816.
"Mrs Grey Porter, like other ladies of her class, saw in the craft a way to provide much needed employment for young women in rural Ireland. She and her maid Ann Steadman, learned the appliqué technique by copying the Italian work and in about 1820, they established an appliqué lace-making class which soon attracted a number of young women to apply this potentially remunerative craft." — irishcarrickmacrosslace.com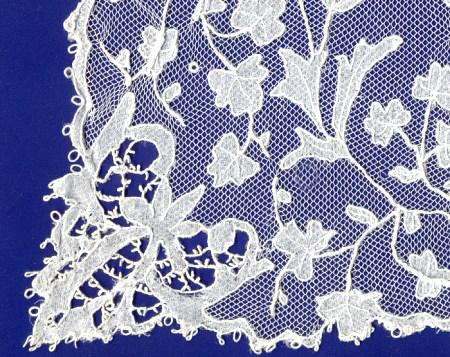 (Photo: lace.lacefairy.com)
During the famine it became an important source of rural family income — which was common with lace production everywhere. It was "made by the poor for the rich and famous."
Fortunately, this technique did not die out as other art forms did, due in part to the local St. Louis Convent. The nuns still teach this needleart today.
The lace is worked by tacking fine muslin onto machine netting. The design is outlined, the unwanted muslin is then cut away and the open areas are filled in with needle lace. When this process is complete the excess organdy is cut away revealing the design. A further effect, called "guipure," also a feature of this lace, is achieved by linking areas of the pattern, creating a very intricate design of open work. Colorful terms are used to identify the extensive range of stitches which enrich and embellish the pattern — bars, pops, cobweb, etc. Carrickmacross lace is sometimes confused with Limerick lace, which does not use the cutwork.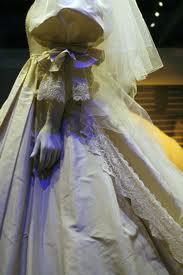 What we weren't able to see in the Duchess of Cambridge's wedding ensemble was her three petticoats of hand-embroidered lace and embroidered shoes, also embroidered by the Royal School of Needlework craftsmen and craftwomen.
Princess Diana's wedding dress sleeves also featured Carrickmacross lace, which was handworked by the Royal School of Needlework.
Carrickmacross Lace Demonstration
Here are a couple of videos demonstrating this intensive handwork. I love the woman on the right in the second video when she shakes her head at the camera in disbelief. I have a feeling she's going to have a UFO.

This next link is a wonderful video with close-ups of Carrickmacross lace samples from The Virtual Textile Museum. The narration is in Italian, but pictures speak a thousand words.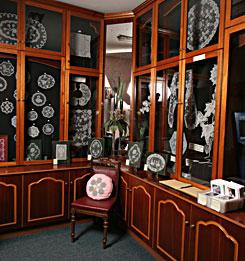 (Photo: Carrickmacross Lace Gallery)
If you're in County Monaghan and interested in seeing more Carrickmacross lace, then a visit to the Carrickmacross Lace Gallery will surely be on your must-see list. Send us a postcard if you do visit theCarrickmacross Lace Gallery!