What is Battery Recycling?
Battery recycling is the reuse and reprocessing practice of batteries aimed at reducing the number of batteries being disposed as material waste. Batteries contain several poisonous chemicals and heavy metals and their dumping has attracted environmental concerns due to contamination of water and soil. As such, batteries need recycling to comply with environmental and health benefits.
According to Wikipedia,
"Battery recycling is a recycling activity that aims to reduce the number of batteries being disposed as municipal solid waste. Batteries contain a number of heavy metals and toxic chemicals and disposing them by the same process as regular trash has raised concerns over soil contamination and water pollution."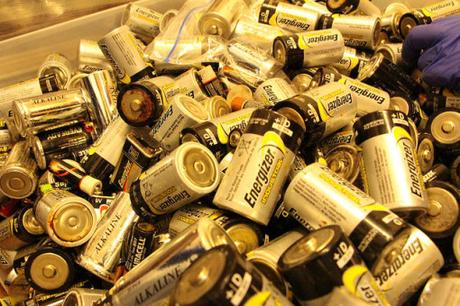 Process of Battery Recycling
Nearly all batteries can be recycled, but there are some can be easily recycled more than others. Lead batteries for instance are 99% recyclable especially due to the value of lead and toxicity levels. Other battery types such as lithium-ion, nickel–cadmium (Ni-Cd), nickel–zinc (Ni-Zn), nickel metal hydride (Ni-MH), and lithium-ion (Li-ion) are also recyclable. The subtopics below provide detailed discussions about the various mechanisms and steps used for recycling different batteries.
1. Recycling Lead Acid Battery
Lead battery recycling involves five basic steps:
Collection: Batteries are collected from the disposal and waste collection points and taken to the recycling facility.
Crushing: On reaching the recycling facility, the battery is broken apart in a hammer mill (machine that crushes the battery into small pieces).
Sorting: The broken pieces are taken through a vat, where heavy metals and lead are separated from the plastic.
Sieving: Polypropylene pieces are scooped out and the liquids sieved to only leave the lead and heavy metals. The Polypropylene pieces are washed then ferried downstream to manufacture new battery casings.
Hydro-metallurgical and Pyro-metallurgical processes: This is the processes used for extracting valuable metals and minerals from their ores. It is the final processes are used in battery recycling to extract lead and other heavy metals from the battery residue after the fourth step. Hydrometallurgy is an extractive process that uses aqueous chemistry in a process complemented by pyrometallurgy which facilitates the chemical and physical transformations to recover lead and other valuable metals. The process includes calcinations, roasting, smelting and refining to retrieve the lead final product.
The plastics (polypropylene pieces) are washed and dried then sent to downstream plastic recycling where they are processed and reused to manufacture new battery casings. They can also be sold to plastic product manufacturers as raw materials.
The lead materials are cleaned and taken through the Hydro-metallurgical and Pyro-metallurgical processes where they undergo calcinations, roasting, and smelting.
The resultant molten lead is then refined through aqueous chemical treatment and cleaning to eliminate any impurities. The final products are then poured into ingot molds and left to cool. After cooling, they are removed from the mold and ferried to battery manufactures where they are re-used to manufacture new lead plates and other battery components.
Old battery acid is handled in two ways:
Neutralization of the acid with industrial basic compounds that turns the acid to water. The water is cleaned, treated and tested to ensure it complies with water standards, after which it is released into the public sewer system.
It can also be converted into sodium sulfate. Sodium sulfate is an odorless white powder used for manufacturing laundry detergents, textiles, and glass. Alternatively, the acid can be reused to manufacture new battery products through specialized recycling process.
2. Recycling Alkaline Zinc Air /Zinc Carbon Batteries
Alkaline Zinc Air /Zinc Carbon Batteries are 99.9% recycled in an innovative mechanical dismantling process where the battery parts are sorted into three end products. These parts include 1) steel, 2) paper and plastic, and 3) zinc and manganese concentrate. They are then all taken back to recycling facilities where they are re-used to make new products.
3. Recycling Lithium Ion, Nickel Metal Hydride, Nickel-Cadmium Batteries
99.9% of the components of these batteries are recycled into reusable products. Before smelting, plastics are separated from the metal components and the resultant pieces reused for making respective material products. The remains are smelted through a High-Temperature Metal Reclamation (HTMR) process. The process allows for the recovery of metals such as iron, manganese, nickel, and chromium. The extraction of these metals typically utilizes Hydro-metallurgical and Pyro-metallurgical processes. Recovered parts are then taken through recycling facilities to be reused in making new products.
4. Recycling Lithium Batteries
The batteries are hammered to release the inner battery components. The plastics are removed and the inner parts shredded into smaller pieces. The resultant debris is submerged in basic (caustic) water to neutralize the electrolytes. The ferrous and non-ferrous metals are then separated. Clean scrap metals are later used for manufacturing new products or sold to recyclers. The remaining solution is then filtered and taken through the process of recovering carbon and lithium. Some of the recovered carbon is recycled while lithium is converted to lithium carbonate which is used to produce foil and lithium ingot metal for batteries.
5. Recycling Mercury Batteries
Mercury batteries are handled with great care and recycled through a controlled-temperature due to the highly toxicity of the heavy metals in them. The Hydro-metallurgical and Pyro-metallurgical recycling processes are used but in a highly controlled material extraction environment. Eliminated mercury is reused for manufacturing new mercury based batteries, in dental amalgams and metric instruments, and for fluorescent lighting. Other components such as plastics and metallic materials are re-used for manufacture of their respective products. However, a point to note is that the manufacture of mercury containing batteries has been decreasing and even prohibited in some countries due to their potential threat to human and environmental health.
Source: Battery Recycling
Image credit: WCN