Traditional spring based mattresses are made of interconnected coil springs. This means that they all operate as one. This causes the mattress to exert pressure on users' backs. The springs of pocket sprung mattresses are not interconnected. As the name implies, each spring is individually housed in its own pocket. This allows the springs to do a better job of supporting the user. Each spring can respond individually to the weight being exerted on it, rather than reflexively to the movement of the other springs.
Pocket sprung mattresses are perfect for customers who have had trouble with traditional mattresses. If you have a bad back, a stiff neck, or just do not enjoy the quality of sleep you get on your current mattress, a pocket sprung mattress is worth looking into. Sleep is too important for you to not at least look. Try one out at your local mattress store and see if you can feel the difference.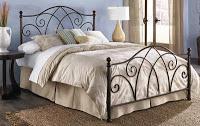 Platform Bed
Pocket sprung mattresses look like traditional mattresses, so you don't have to replace your existing frame. If you currently have a cheap bed frame or a platform bed, your pocket sprung mattress should fit right on top. No additional costs. Pocket sprung mattresses are similar in price to other mattresses, so don't be scared off by the thought of investing in a new mattress. But even if you do have to pay more, it is worth it to get high-quality sleep. Some people do not realize how poor their sleep quality is until they get the chance to sleep on a better mattress.
Most people keep their mattresses for years, so you would be better off getting what you really need instead of settling for something that is not giving you the back support you need.