Lately we have been asked to review several cookbooks which we truly enjoy doing. It exposes us to new cuisines, recipes and most importantly, to new food stories. Recently, we was asked to review a cookbook titled "Growing Up Gourmet" promoting the idea of raising children to be non-picky eaters. While I'm sure that it is a lovely book with wonderfully useful information, I find that I am extremely irked by the title. Please be clear that this is not a review of that cookbook (or any other), but a long coming disquisition.
Teaching children to eat a variety of healthy foods does not make them gourmet. It makes them well-adjusted children who develop healthy diets and eating habits. Over the years, we have known more than a few parents who feed their children chicken nuggets on a nightly basis and making a separate meal for themselves including one mom who regularly carried a cooler bag with turkey hotdogs so that her son would be able to eat when visiting friends.
When, for a short period of time, our son adopted a "brown" diet, wanting only meat, potatoes and plain pasta and going on a hunger strike when we did not comply to his dietary wishes. Worried he was not getting a balanced diet, we discussed this with his pediatrician who said, "No child will willingly starve to death." Sure enough, he ate "colorful" foods when he was hungry and learned to eat what he was served.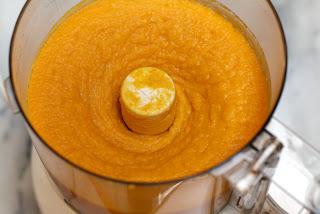 Many doctors and specialists fear that eating the same foods on a continuous basis may lead to a consistent lack of intake of very important vitamins and nutrients. Further there is some evidence suggesting that a monotonous diet can interfere with sleep patterns. Another theory is that more children are developing food allergies because they are not being exposed to common allergens, such as nuts and shellfish, at an early age, if at all.
For most parents, teaching children to eat foods they are preparing for the rest of the family makes economic sense or even an economic necessity. Purchasing those tiny jars of prepared baby food can get extremely expensive and puts a huge dent in a family's grocery budget.
It is so easy to make your own baby food; so easy in fact, that it is hard to believe the amount being charged for a 2-ounce jar of baby food! Most fruits can be mashed or pureed from the raw fruit with little or no preparation or can be easily adapted for kids from the less expensive "adult" packaging. A perfect example of this is applesauce which is quite inexpensive in a large jar and very versatile. 
Our boys always LOVED mashed bananas, mango, and avocado, and yes, avocado is a fruit! As much as you like avocado toast, so will they. Peel and take out the pit of a ripe avocado or mango – they do not need to be cooked! The nice thing about making your own baby food rather than depending on the flavors available in jars is that you can make combinations that your baby likes and naturally sweeten vegetables that might be less appealing with sweeter fruits or vegetables. Simply puree steamed vegetables together. Freeze excess amounts in an ice cube tray for serving size portions later on. And, don't be afraid to add some fresh herbs and spices to the mix either (except maybe for chili peppers). A favorite in our house was always carrot-mango. Try some of these combinations with your babies:
Mango and Carrots

Peachy Sweet Potatoes with Cinnamon

Avocado, Spring Peas, Basil

Banana, Potato, Coconut

Apple Chickpea Hummus with (a pinch of) Curry

Cauliflower, Pear, Parmesan

Pumpkin, Papaya, Paprika

Beets and Rutabaga
There are so many delicious foods in the world. Let your youngsters enjoy them early and often!