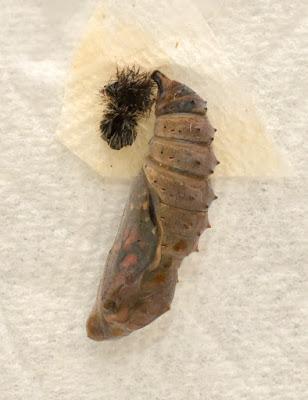 Chrysalis of a Painted Lady butterfly, just before the butterfly is ready to emerge. The caterpillar's shed skin is still attached at the top.
A butterfly has four stages of life-- egg, caterpillar, pupa, and butterfly. The pupa is covered by a hard shell called a
chrysalis
. It protects the pupa as the pupa changes, or metamorphosizes, into a butterfly.
How do you pronounce chrysalis?
(KRIS-uh-lis)
What is the plural of chrysalis?
More than one chrysalis is chrysalises or chrysalides (kri-SAL-i-deez)
What is the origin of the word chrysalis?
It comes from the Latin word
chrysallis
which means gold-colored pupa of a butterfly and from the Greek word
khrusos
which means gold.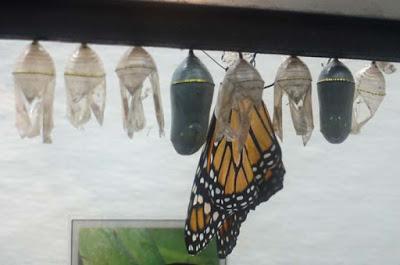 Monarch butterfly emerging from its chrysalis (at the Museum of Natural Sciences, Raleigh, NC)
Each kind of butterfly has a different color and shape to its chrysalis.The chrysalis of the monarch butterfly has a ring of gold colored spots that make it look like it is wearing a gold necklace. Perhaps a chrysalis like that inspired the name.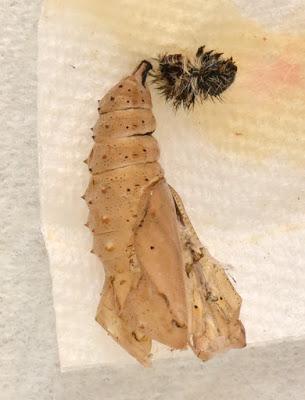 Empty chrysalis, after the Painted Lady butterfly has emerged.
In my book,
BUTTERFLIES IN ROOM 6
, you can see the chrysalises of painted lady butterflies. They are brown. But the butterflies that emerge have beautiful black and orange wings.