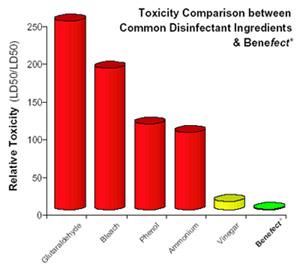 What if there was a better way to disinfect?
Everyday I understand and realize that we use harsh and sometimes nasty stuff. I also try to use my brain in deciding how and when we use certain pesticides and termiticides. I have frequently indicated and written that I don't like using pesticides in homes monthly, if a problem occurs within a home we have new ways of dealing with the bugs we have these days. For example we now have baits or dusts that can be hidden and placed where only the bugs will find it.
I also have to live in a home and I try to use cleaners that are not harsh on my environment and that is why I chose Benefect. I really love the fact that you can now use a product that doesn't require a rinse or wipe. This saves costly labor & time allowing you to do the job faster by saving a whole labor step & lets you move onto the next job faster. This saves you money. It is also suitable for use around children, pets, the elderly and chemically-sensitive individuals. So you can relax about chemical contamination, overspray & evacuating building occupants. Instead of using harsh cleaners this can be used in daycares, schools, pre-schools, church daycares – this product kills germs naturally! Safe & Non-Toxic Ingredients, No Alcohol, Naturally Effective, Won't Dry Out Hands.
We use this product everyday in our Contract Post Office and bathrooms. Kills 99.99% of bacteria in 30 seconds!