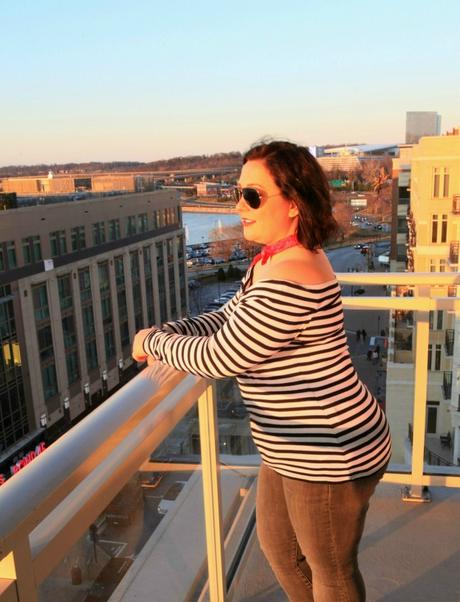 Top: 1.State (L; plus size option) | Jeans: Gap (23S; similar, plus size option) | Booties: VANELi c/o Marmi Shoes ( similar) | Silk Scarf: Vintage pocket square ( similar) | Sunglasses: Ray-Ban | Coat: Amazon (2XL)
This past weekend was really busy and we didn't have much time to take photos for the blog. These photos are from last weekend at National Harbor. I wore this look as we enjoyed the sunset from our hotel balcony.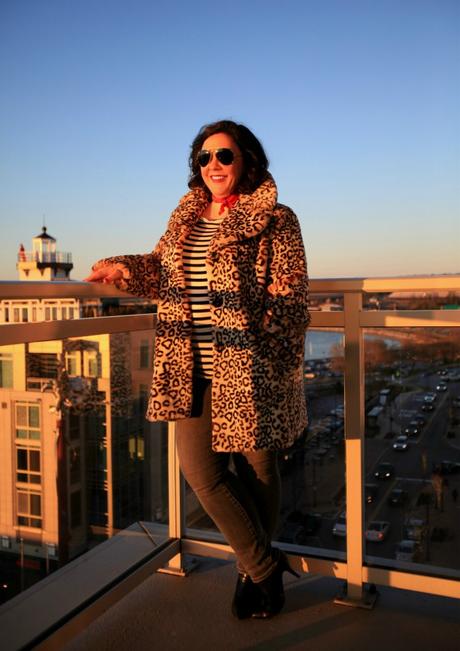 So I've been meaning to talk about
this coat
, the one I bought a couple weeks ago and have been showing like crazy on the blog. I've wanted a leopard faux fur coat for a while, but it's hard to find one of quality that comes in my size. I ordered from Bloomie's, from Nordstrom, from Evans, and from Amazon Fashion from a few designer brands. None of them compared in quality and fit to this less than $90 coat from an unknown brand on Amazon.
Read the reviews
, many said this ran super small. The size chart would lead me to buy a L or XL, but based on the reviews I went with XXL and am so glad I did. While the XL likely would have fit, there would have been no room for a sweater or sweatshirt underneath. And the fur is so silky, when it's chilly while watching TV I often grab this instead of a throw to stay cozy. I had this coat arrive the same day as
this coat from Via Spiga
. The Via Spiga in L fit great, but it was shaped like a fur from the '80s (hello puffed shoulders) and the fur was so scratchy and dull. Also... zippers on pockets on a faux fur? Just trying to open a pocket caused the fur to get caught. Don't assume a higher price or a better-known brand equals better quality or better style.