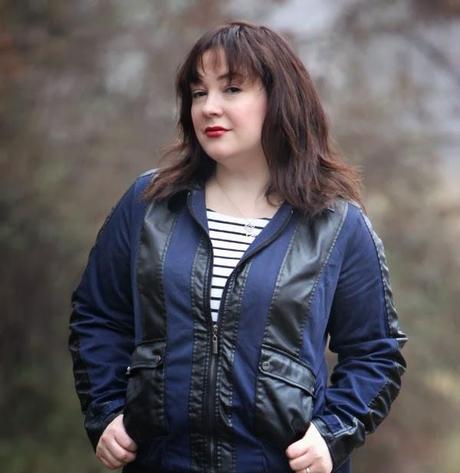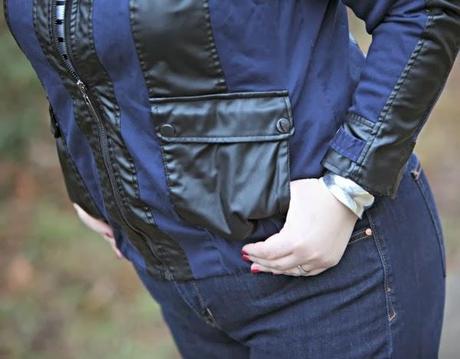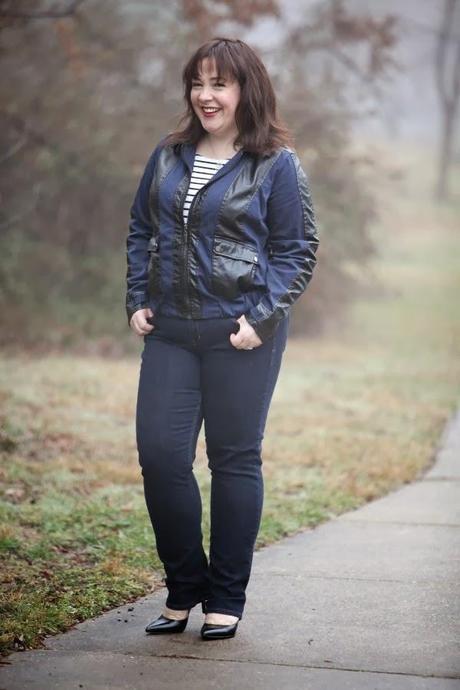 Jacket: MYNT 1792 via Gwynnie Bee | Tee: Armor lux (gift from reader, similar) | Necklace: c/o LiveTheLook | Jeans: Gap | Shoes: Nine West "Flax"
I'm sick this week. Coughy, achy, grody feeling. Monday I called out sick, yesterday I trudged in wearing a work-appropriate outfit the closest in feel to yoga pants. Today I decided to do my face, wear a badass jacket, and fight the sickness. The sickness is winning. I feel like crap, but at least this jacket is keeping me warm and cozy. Red lipstick can do a lot to improve a mood, but it doesn't do much to fight a cold.
But three cheers for Gwynnie Bee, who ships stylish clothes to my doorstep so I can get dressed without much thought or preparation.  This is the third jacket from MYNT 1792 I have gotten from Gwynnie Bee and I really love the style and fit. No need to do laundry, a new look in each shipment and all for the cost of one dress!  I can't recommend Gwynnie Bee enough; use this link and get a 30-day free trial of the program!