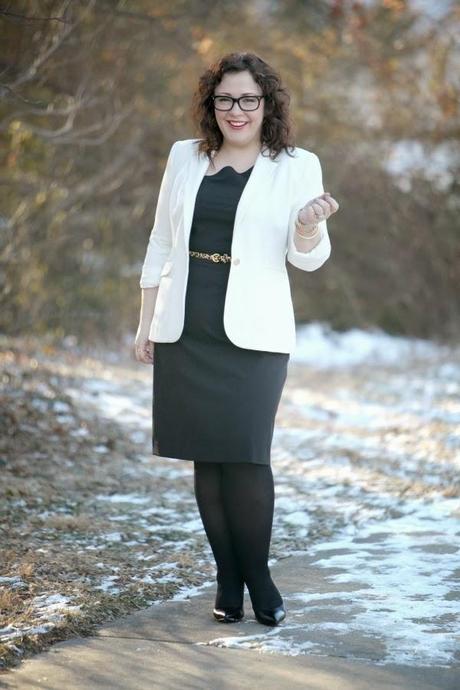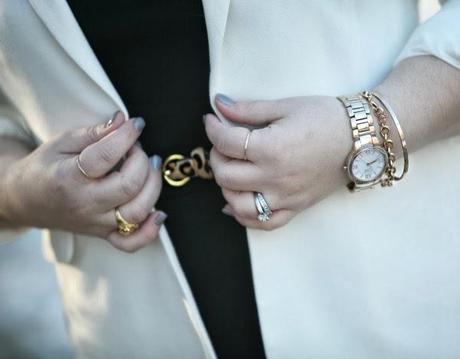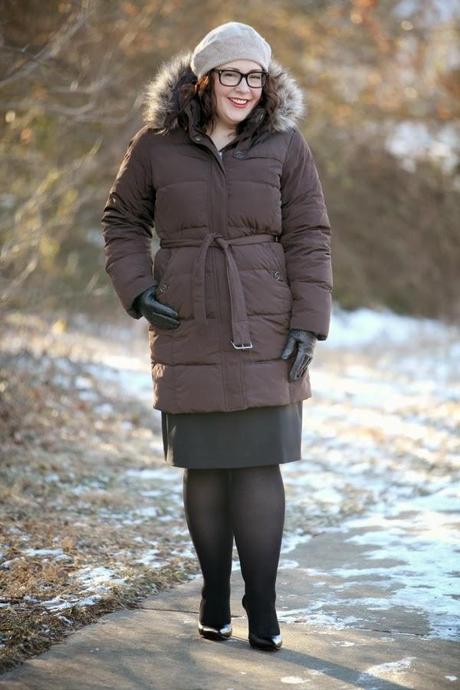 Blazer:
Vince Camuto
(similar)
|
Dress:
c/o Dobbin Clothing |
Belt:
Steven by Steve Madden |
Tights:
DKNY |
Shoes:
Nine West "Flax" |
Watch:
c/o WatchCo
(similar)
|
Bangles:
Nordstrom
(similar)
|
Lion Ring:
Etsy
(similar)
|
Skinny Rings:
Etsy
|
Hat:
Nordstrom
|
Coat:
c/o Lands' End
(similar)
|
Leather Tech Fingertip Gloves:
Fownes Brothers
(similar)
I know it is far colder in other parts of the country, but I can't recall a recent DC winter that has been so... wintry! One good thing about this weather is it's making is far more aware and proactive in insulating our home. We've tucked those air pillows that come with shipments between windows and blinds/shades, have heavy blankets over doors, close doors to bathrooms and other rooms not in use as often, close curtains, have a comforter over the attic door, and added insulation to places that get drafty like outlets, light switches, and under the kitchen sink. We all spend our days in hats and slippers with thick socks in the house, and have one of these homemade heaters on the coffee table, one on the dining table, and have even put one in the kitchen.
I love this hat
, I also
have it in black
and it keeps my head and ears warm without giving me crazy hathead, and prevent the static I get from my hood directly on my hair!  And this coat, oh how I love it.  Lands' End offered it to me
a few winters ago
and it's the perfect commuting coat because it covers my bum, is machine washable, and has lovely details like fleece-lined pockets, hidden inside pockets, and knit cuffs to keep out wind and snow.  Oh, and it made 9 degrees feel like nothing
(though my legs felt it, good thing I'm a fast walker!)
.
Follow Me | Twitter | Facebook | Instagram