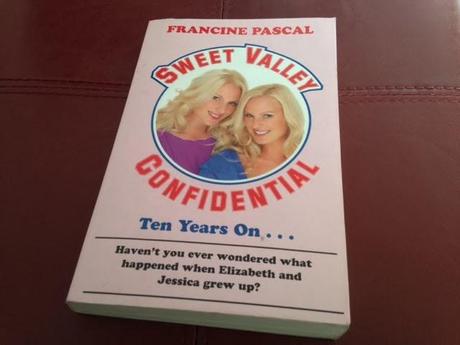 Hi Pixies! If, like me you grew up in the 90s (or 80s) then you've probably heard of Jessica and Elizabeth Wakefield, or as they're more commonly known: the Sweet Valley Twins. When I was growing up all the girls in my Primary school were obsessed with the Wakefield girls and the many adventures that they managed to get themselves into, and even now in my early twenties I still enjoy the girls stories and like me they are now all grown up. 
I'm currently reading the latest book in the series; Sweet Valley Confidential. We are reintroduced the Twins ten years on from where the series ended, they've left school and are now living on opposite sides of the country following a huge fallout after Jessica married her sisters one true love, Todd. Elizabeth, who is usually the kind and nicer one of the pair decides that the only way to get her own back on her sister is revenge. I won't go into too much detail as I don't want to risk spoiling anything.
So far I'm about a quarter of the way through and I've been hooked right back into the charm and interesting plots that made me fall in love with the series in the beginning. It's also a known fact that these books are notorious of using 'ghost writers' and in truth, I think that it's not too bad, as long as credit is given where credit is due, I also like this as you get lots of variety in the books that you may not get from having just one author. 
I'd defiantly recommend this book to anyone who was a fan of the original Sweet Valley series as it's really interesting to find out how the Twins turned out and how adulthood has changed them, whilst still staying their loveable selves. If you haven't read any of the pervious books then I'd suggest doing a quick but of catching up on Google as you do need to know at least the minimum of what has come before.