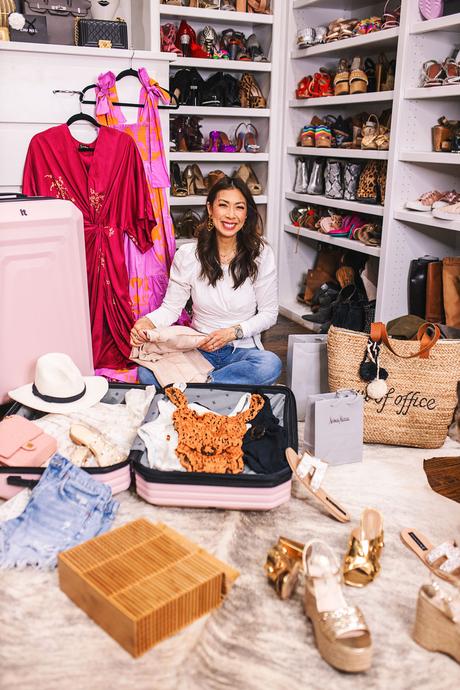 Happy Hump Day Fashionable Friends!! I'm actually laughing at myself because I've always wanted to do one of these "What to Pack for Spring Break" posts but never have been organized enough to get it done! Hooray for first right?! This is going to be the rated M version, as in MOM life, since we are headed to Austin and Lake Whitney for vacation. Mr. S and I are the worst at planning and communication, and somehow I ended planning 2 mini-vacations for our Spring Break! Talk about being mistakenly overambitious! Here's hoping that everything works out the way it's supposed to!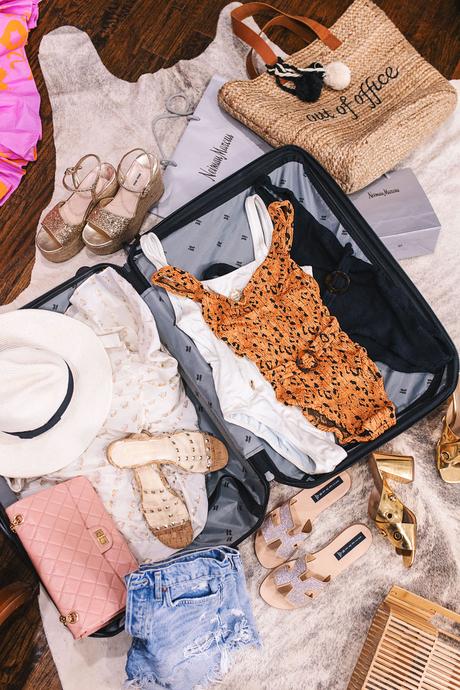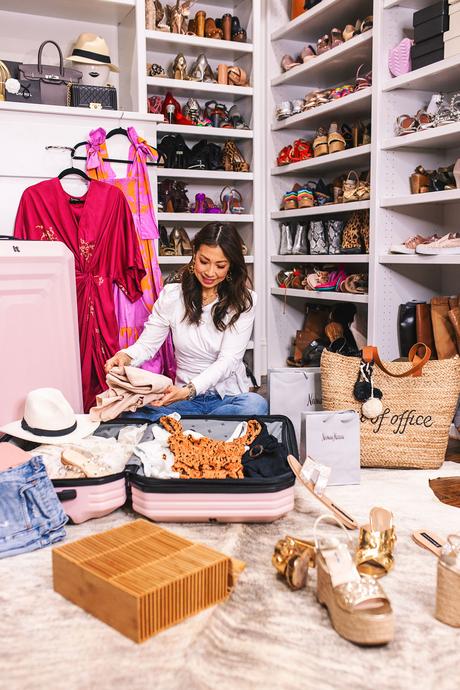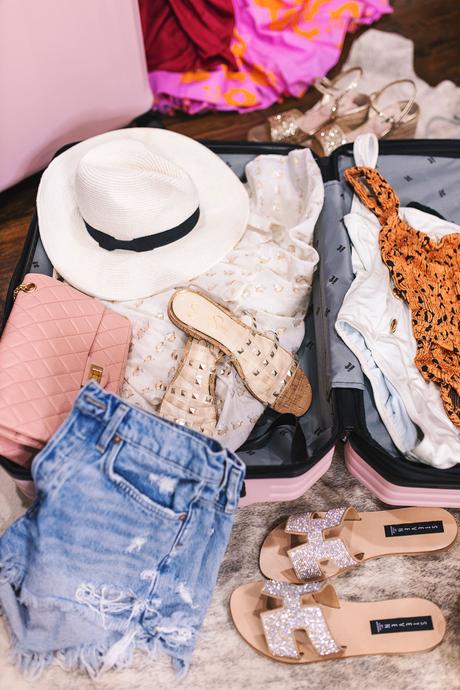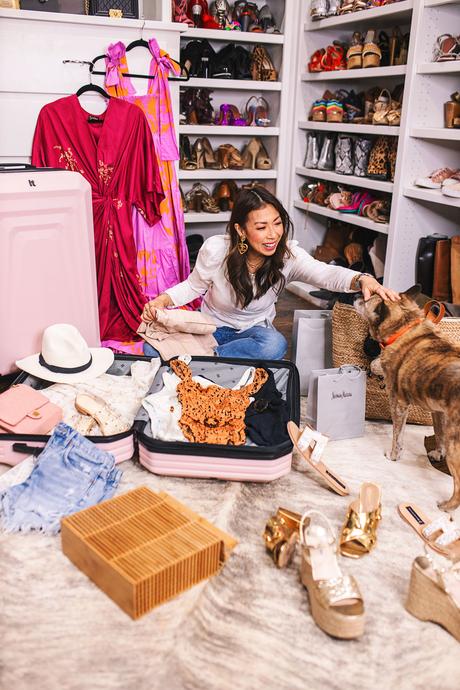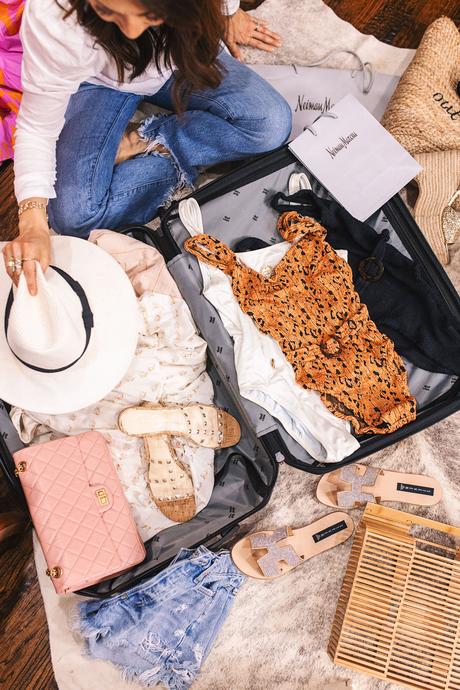 // Photography by Angie Garcia //
Packing has always been a daunting task for me. I'm not sure if it's because I have ADHD, or get overwhelmed by outfit possibilities, or just pack when I'm too tired because I wait until the last minute. I've tried different approaches like an outfit per day, which sometimes works if you are attending a specific event, but sometimes doesn't when you're doing multiple activities during travel. Today, I'm sharing the method that has worked best for me LATELY - breaking it down by sections.
Here are a few questions to consider before packing:
What is the weather? According to the forecast, Austin weather should be a high in the 70s and lows in the 50s.
What activities are you going to be doing? We will be doing a lot of walking and eating.
Which color palette will the majority of your clothing be (neutrals vs bold, etc.)? I try to stay in the same color family when traveling so I match ie. all neutrals or this time I'm bringing a lot of pinks/reds clothing items w/neutral accessories.
For the first part of Spring Break, we are headed to my favorite town of Austin!! I went to pharmacy school there AND we got married there. That city holds some FABULOUS memories in my life, and it will always have a special place in my heart no matter how crazy and big it gets! Things curently on the itinerary are flying kites at Zilker park, seeing bats at the South Congress bridge, watching the GT World Challenge race, visiting the Capital, and touring Inner Space Caverns on the way there.
For the second part of our vacation, we are renting an RV and headed to Lake Whitney to meet up with some friends (who will also be in an RV)! I think it's going to blow their little minds and they are going to LOVE the RV! Between 4 adults and 5 kids, I'm sure it will be a blast (and/or complete chaos)!! LOL! Plans include hanging out on the lake and making sure kids are safe!
Anyways, all of that is to give you some background on where we are headed and what we are doing (which includes NOTHING fancy). Of course, the best part of travel is planning what you're going to wear, but what I WANT to wear and SHOULD wear are completely different. LOL! I always want to be in fancy maxi dresses and heels which DO NOT WORK at all with our ACTUAL Spring Break plans. Here's how I compromise on pretty and comfy breaking it down in sections. Shall we start?
Why can't you be cute AND comfy at the same time? - me
SPRING BREAK SHOES
If I told you the number of "discussions" that Mr. S and I have had over vacation shoes (that ended up causing blisters, not matching my outfit, needing a new pair, etc.), you probably wouldn't believe me. Now that kids are in the mix, there isn't the luxury of finding another pairs of shoes (aka stopping at Target) wherever/whenever we're traveling. ALSO, I have to limit what I'm bringing because there's the issue of space especially when traveling by car. In general, there's NO TIME to think about yourself and you have to be able to get dressed and ready in a flash.
Since middle school, I've started outfits with a pair of shoes OR accessory that I've wanted to wear and worked around that piece, and that still rings true today! Like I said, I want to wear gorgeous high heels but that really doesn't work for the type of Spring Break that we're going on. Anyhow, I found an AWESOME pair of CUTE and COMFY gold Mephisto sandals at Stanley Eisenman that will work for dressy and casual. I'm literally so proud of myself for investing in those pair of sandals that I know will last forever because of the quality and never go out of style!
What I've settled on:
Adidas Superstar Sneakers: These are super comfy and go with everything since they are white & gold.
Gold Mephisto Sandals: Love that they are metallic gold (a glam neutral in my book), have a heel, and SO lightweight. Will also match everything.
Clear Rhinestone Sandals: Thank you to those who voted on Instagram Stories! :)
Nude Sandals: (these are a maybe) I always want to have a dress up shoe JUST IN CASE we go out, but who am I kidding????!!!!

SWIMSUIT MOMMA
Although I do have my Mom Approved two piece bikinis, I always feel like it's easier and safer to bring a one piece on vacation - less muss, fuss, and chance of fashion blooper! I was SO EXCITED when Neiman Marcus started carrying the brand Hunza G swim. They are a British based brand that makes these really cool textured swim pieces, and the one pieces are ONE SIZE FITS ALL!
Personally, I feel like the material hides lumps and bumps better that normal swimwear, and some of the one pieces can double as a bodysuit! I was trying to decide between the black and leopard print and kept the black as a good classic. The belt gives the illusion of a waist, and it's very flattering.
What I'm bringing:

VACAY DRESSES
I refuse to give up dresses, ESPECIALLY on vacation!! Even if I cannot wear this gorgeous orange/pink maxi or this fabulous blue ruffle maxi, I'm going to wear a dress!! Since over dramatic maxi dresses are out of the question, I decided that this beautiful knot dress works. It's from Symbology (mentioned in this post) and I'm sewing the front part so I don't need to worry about wearing a slip. It will be easy to wear with sandals or sneakers.
What's in the bag:
SPRING BREAK SEPARATES
It goes without saying... You should ALWAYS bring one pair of jeans... just in case! I'm bringing a simple pair of skinny jeans. And t-shirts are always a good idea... especially for vacation or travel days. All of these can items can be dressed up or down. That's the real test!
What's packed so far:

ACCESSORIES
Oh boy, this is my other favorite section but I had to PAIR DOWN on what I was bringing! I have my everyday jewelry (necklaces as seen in this post) and then my outfit changers are the earrings. I will probably have a pair of hoops (Duh!) and 2-3 pair of fun and bright earrings! I have found some FABULOUS fun earrings at Lola & Lina and also at Tarjay that don't break the bank!
Of course, I usually want to bring a million bags too but will settle on this fun "Out of Office" tote from Ballard Designs and a small crossbody to use during the days. Oops, we didn't even get to sunglasses yet. No joke ~ I usually have 4 different pairs of sunglasses in my car at once to wear depending on my outfit. Again, I will narrow down to these pink/gold glasses and black pair from the Box of Style ( seen here)!
Bringing:

UNDERGARMENTS
Foundations matter! If your bra or undies are uncomfortable, then YOU will be uncomfortable which is I keep it simple. Once I find a brand that I love, then I stick with it. I basically only wear SOMA Enbliss bralettes but will switch to the 360 bra depending on the neckline of my top! Also, I wear SOMA lace hipsters or the Vanishing edge hipsters which avoid VPL (visible panty lines) while being COMFORTABLE at the same time!

RANDOM MUST-HAVES
When traveling, there are certain non-negotiables that I ALWAYS bring no matter what!
sound machine: I also have the "White Noise" app on my phone just in case
earplugs
phone charger
socks: My feet get cold at night
large scarf (to use as a wrap or for warmth)
vitamins/supplements/probiotics
COFFEE - If we are traveling to a place where coffee is a maybe, then I grab Starbuck Instant coffee packets which are a lifesaver!
"In Case of Emergency" kit: I have a small makeup bag filled with things like bandaids, nail clipper, hair ties, etc. that easily moves to my different bags especially when traveling with the Littles.
FOR THE LITTLES
This is for my Moms out there! Awhile back, I started a list of packing things that I need to remember for the kids EVERY SINGLE TIME! This saves time and brain space and can be updated as they grow up.
These are things like:
headphones & earmuffs (for the ipad & if we go to see movies/races)
blanket/pillow
lovie
set of plastic plate/bowl/flatware
Amazon Firestick
toothbrush/toothpaste
Benadryl/Ibuprofen
I hope this post helps you think about packing for vacation in a different way. When you break it down into smaller sections, then it's not as overwhelming. If you stay w/in a color palette, then it's easy to mix and match pieces. Now it's your turn! I want to hear how you approach packing?
HOW DO YOU PACK FOR VACATION? What are your must-have pieces when traveling?
SHOPBOP SALE
For my sale loving and shopping friends, the Shopbop Sale has started and I LOVE all the Spring Things! It's a Buy MORE, Save MORE event where you can save up to 25% off with code SPRING. I wanted to share a quick "10 Things under $100" from the sale!
plaid oversized blazer
ombre pink/melon chain bag
oversized mirrored sunglasses
leopard slip skirt
pearl hoop earrings - have the larger version and wear them ALL THE TIME
put a ring on it mug - got this as a present and LOVE it!
all in good taste book
old school Fila sneakers
set of 3 hair clips
puff sleeve sweatshirt

Happy HUMPday GlamFam! I am rushing to get everything done before we leave town and it isn't looking pretty! LOL or sad face - you choose! Anyhow, hope your week has been fabulous! Mine has been fabulously BUSY!! Will be seeing you again soon!
Thank you so much for stopping by and supporting SOS!
CHECK OUT MY INSTAGRAM SHOP HERE TO SHOP ALL OF MY INSTAGRAM LOOKS!

stay glam, do good