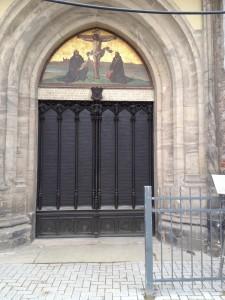 The door that held Luther's 95 theses was destroyed by fire. This bronze door replaced it and has all 95 theses etched into the metal.
My wife, Pat, and I just got back from 12 days in Europe. It was our third trip together to the continent, and we visited four countries we hadn't seen before – Germany, Austria, Slovakia and Hungary. We traveled with 44 other folks from our congregation, La Casa de Cristo Lutheran Church in Phoenix.
During the first few days, we visited a number of sites tied to Martin Luther:
Wittenberg, where he posted his 95 theses and lit the fire that led to the Reformation. He and his wife, Kate, had six children in this town and lived most of their lives here. Luther and his close friend, Philipp Melanchthon, also taught at the town's Wittenberg University. (A side note: Shakespeare melancholy Dane, Hamlet, was said in the play to have attended Wittenberg University. Also, Christopher Marlowe used the town as the setting for his sell-your-soul-to-the-devil play, Doctor Faustus.)
Eisleben, where Luther was born, died and preached his final sermons.
Erfurt, where Luther received his university training and lived as a monk from 1505 to 1511.
Wartburg Castle, where Luther hid in 1521 and 1522 from people wanting to harm him after his excommunication from the church. During his time here, he translated the New Testament into German. In recent years, Germans voted him to be the most important German, not for his theology but for standardizing the German language through his translation of the Bible.
After covering this territory, we boarded a Viking Cruise Lines ship for an eight-day excursion on the Danube River. We visited Passau, Germany; several towns in Austria, including Vienna; Bratislava, Slovakia; and Budapest, Hungary. Natives in Germany and Austria humored me as I tried to recall the German I learned during my years in Lutheran grade school and high school in St. Louis.
The Luther sites exist in what was East Germany, and they're being restored as the nation prepares for a 500th anniversary celebration of the beginning of the Reformation in 2017. Churches in that part of the world are extremely weak. Our guide explained that during Communist occupation, people were told that their children could be baptized and participate in the church, but they would have difficulty attending college and finding a job in later life. That was enough to keep most people away from the church. It also meant that a whole generation grew up with no interest in or commitment to Christianity or the church. Some are hopeful that church participation can be rebuilt, but that remains to be seen.
I gained a better understanding of why so many Germans settled in St. Louis during the 1800s. The terrain looked just like home! The vegetation and the weather appeared the same. Many Germans were enticed to Missouri by the promise of cheap land, and I'm sure they also came because it looked just like the Fatherland to them.
They brought their beer-drinking ways with them, of course, and many small breweries popped up in St. Louis during the 1840s and 1850s. Eberhard Anheuser and Adolphus Busch cracked the code on how to scale up brewing operations and, as a result, became extremely wealthy. If you walk around the St. Louis brewery today, or visit Grant's Farm – still home to some Busch family members – you can see how Adolphus Busch rewarded himself by modeling his home and life after the luxury he remembered from Germany.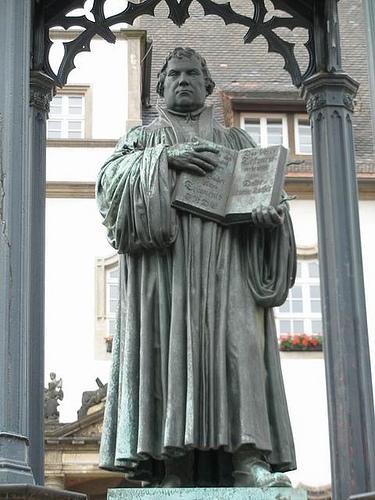 Luther statue in Wittenberg
I'd known it, of course, but it was really driven home to me how so many of our magnificent buildings can be traced back to European architecture. The Capitol, the White House, George Washington's home at Mount Vernon, and any other impressive U.S. structure built during the 1700s or 1800s echo European architecture.
Luther statues are common in Germany, and so are statues of Johann Wolfgang von Goethe, the German writer and statesman who said, "He who does not know another language does not know his own." The more I travel, the more I come to see that you can't really know your own country until you've seen others.