Good morning everybody! We have been busy lately – it's amazing how the days, weeks, and months fill up even when one isn't working! I guess adding Jack to my life's mix helps with that :) So what have we been doing?
Well, Jack's been busy growing. He turned 5 months old last week. Wow. He seems like such a big boy with all his reaching and talking (okay, vocalizing) and sitting and playing and tummy-time athletics but really he is only a 5 month old baby! He sleeps a lot – 9-10 hours a night, then he wakes me up with his pterodactyl call (seriously) for some food and, once sated, goes back to sleep for another 2 hours or more. Look at how adorably he does so.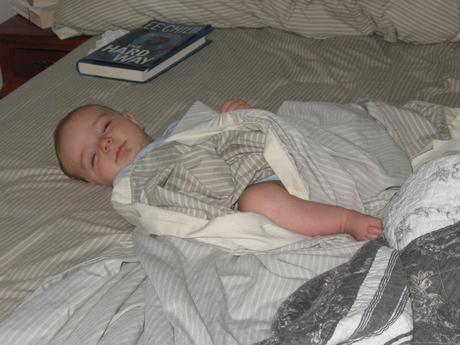 Jack tangled up in sleep
So, in between eating and sleeping and growing…we have been spending a lot of time away from home. This guy is a traveler – he goes everywhere with me. My sister and her family have been in town and so we've been spending time at my parents' place, visiting with them. Her family consists of her husband and 4 1/2 year old twins! Yesterday my mother looked after Jack and the twins while Allie and I went gallivanting for a couple of hours. I don't think she'll ever be the same again…
I've also been trying to get my house organized. I'm not very good at that. I'm right now sitting at my computer facing a wall so I can't see what is going on in this room around me. Holy moly what a mess. The more I try to organize the more it seems unorganized. I'm refinishing a chest of drawers I bought on craigslist for 10$ and I have appointments to go pick up 2 more cute dressers that I may or may not have to refinish. I'm thinking this may help in my finding a home for my stuff endeavours. One of my issues is that I do not have a lot of closet space in this house. No place for linens, 2 whole kitchen drawers and too tall cabinets, one real closet for clothes in the whole house…(and that one at the end of a rather dark hallway…note to self. Need a track light for the hall!)
Oh and can't forget writing cover letters for various job applications! Still on the search for a teaching position for September!
And we're anxiously waiting for Jack's dad to come home. He's been gone since the end of May. Jack's changed so much in that one month! We've talked just about every day and he's been able to hear Jack talk more and more (okay, vocalize!) but I know that it's no substitute for holding him in his arms. He'll be able to do that on Thursday :)
What have you been up to?