So this cool neighborhood restaurant (read: hipster hangout) in Dallas called Chicken Scratch trades a party for a billboard with CBS Outdoor. When it comes time to create this billboard, they get hooked up with an ad copywriter, Matt Bull, who just broke out on his own. Chicken Scratch's brand is "honest, genuine & real." Ads don't get much more real than this. The illustration stylings of Elliott Park lend even more raw grit to the design. Clearly the client has a sense of humor about themselves and understands the irreverent humor their audience can get behind. Lessons to be learned: know your audience and take a risk.
This billboard probably would have been relegated to local folklore if Matt hadn't posted it on Reddit. At which point, AdFreak gets ahold of it. And then Clear Channel sees it and decides to give Matt 4 weeks of self-promotion on a digital billboard. Again, Matt runs right up to the ledge of sanity and posts a billboard promoting the domain slothpunchclub.com which was to be given away to the person who offered up the best use for it. A dude nicknamed "Sloth" won the domain based on his plan to create sloth-inspired custom shoes.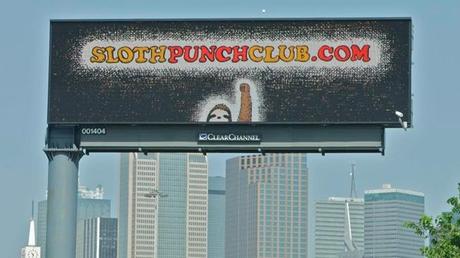 Another lesson to be learned: weird crap like this is fun and people love to talk about it. The added value from all the media exposure for Chicken Scratch, Matt Bull, Elliott Park, CBS Outdoor, Clear Channel, and slothpunchclub.com is almost immeasurable. Just look at all those links.