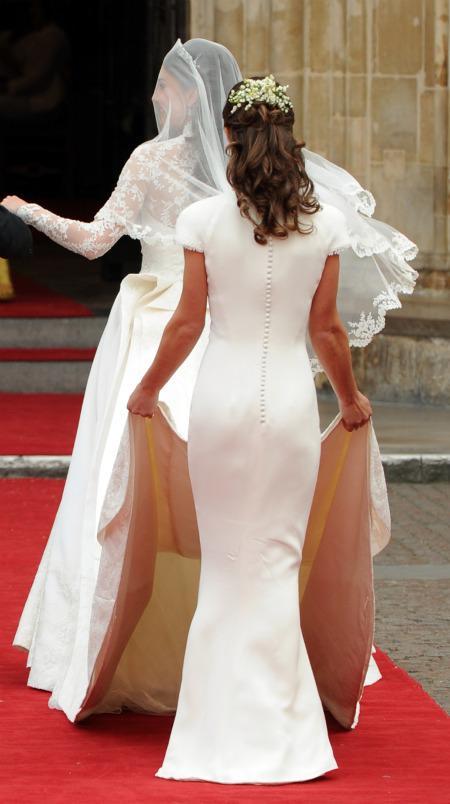 Button back of Pippa Middleton's dress (Image: Glamour.com)
We've seen the dress. Well, maybe not in person, but I'm sure by now, you've seen the replay of the wedding at some point. Even if weddings aren't your fancy, as a sewist, the dress would surely peak an interest. Here are a few things about the Duchess of Cambridge's dress.
So simple in its line, the dress designed by Alexexander McQeen talent Sarah Burton is finished on the back with  58 gazar and organza covered buttons fastened by Rouleau loops. Pippa Middelton's dress had the same buttons on the back of her simple, but chic dress.
And, be honest, who doesn't wish they didn't look as good as Pippa did and rocked that dress? If you're going to have to walk behind your sister carrying her train for four minutes, you might as well be able to look your best from that view. Am I right?
Royal School of Needlework
The beautiful lace and embroidery on Kate Middleton's dress was the meticulous and studied handwork of the Royal School of Needlework (RSN). The Royal School of Needlework is a self-funding educational charity dedicated to keeping the art of hand embroidery alive in the 21st Century. The skilled embroiderers of England's Royal School of Needlework contributed their technical embroidery expertise to create the bespoke lace on the wedding dress, veil and shoes.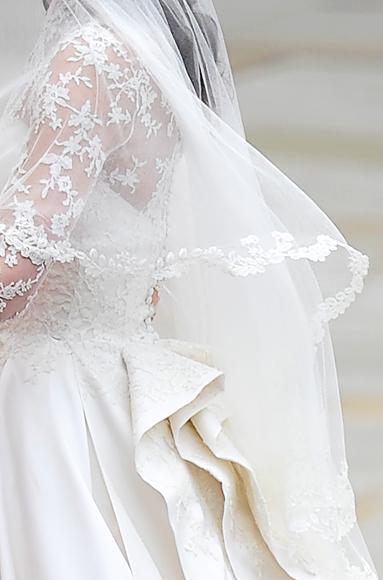 (Photo: Getty Images)
The design on the lace was a meld of England's Tudor's rose, Scotland's thistle, Ireland's shamrock and the daffodil of Wales, a nod to the countries of the United Kingdom.
The lace design and process was influenced by traditional Carrickmacross lace which originated in Ireland in the 1820s. Carrickmacross lace uses an embroidery technique called appliqué – the lace is worked by applying organdie fabric to a delicate net background and edging each motif with fine cord-like thread. Sarah Burton sourced a series of lace motifs to create a unique design, applied by the RSN and arranged to fit each part of the dress perfectly following her creative vision. Each lace motif (some as small as a 5 pence piece) was applied with minute stitches every two to three millimetres.

One of the hallmarks of the RSN is that our embroiderers can work collectively on a project yet it will look like the work of one person. The team for this project comprised RSN Studio staff, former staff, tutors, graduates and current students…

Famous for its high standard of technical hand embroidery, since its founding almost 140 years ago, the RSN's mission has always been to keep the traditional art of hand embroidery alive. Essential to the RSN's work is its attention to detail. Hands were washed every 30 minutes to keep the lace and threads pristine; needles were renewed every 3 hours and only short lengths of thread were used, each no longer than 30 cm. Also, to maintain an even appearance, no securing knots were used and it was important that the back of the work looked as neat as the front, another RSN hallmark.

— Royal School of Needlework press release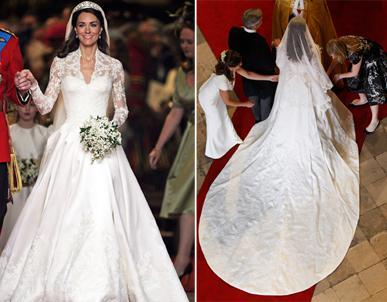 (Photo: Getty Images)
Another secret about Kate's dress: Pads were added to the hips to give her a more hourglass figure. Lucky girl to need additional padding on her hips. One secret about Princess Diana's dresess that was likely added into Kate's is that all the undergarments were sewn into the dress. Underskirts are sewn tight; bodice and bust boning are snug to prevent shifting or movement of any fabric. [edited/added]
More about the Royal School of Needlework.