Low Value Contrast means colours that are only 1-3 shades away from each other (on a gray scale such as this):

It doesn't matter where on the gray scale the items sit, just they need to be close to each other in depth of color.
What it doesn't mean is that the colours have to be similar to each other (that's color contrast).
To find out your ultimate value contrast read this post.
Here are some examples of Low Value Contrast in different values and also different color contrasts.
Love Value Contrast – Light Value
If you have overall light value (fair and lighter or blonde hair) and you are low value contrast then work with an overall light palette such as this.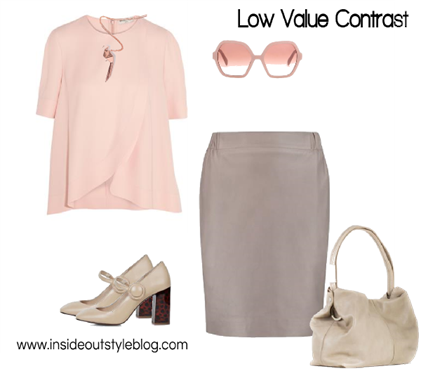 You will see that the top and skirt (and all accessories) are a similar value (that is level of lightness or darkness).  This is in a light value (all light colours).  This outfit is also an example of 2 neutrals plus one color.
Medium-Light Value – Low Value Contrast
Here is a Medium-Light Value (it's really in between medium and light colours, but not really light).  Still in a low value contrast.  It looks more contrasted because of the higher colour contrast.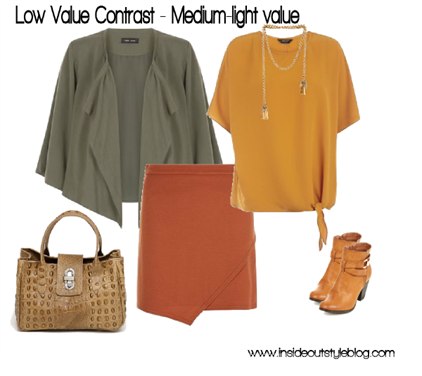 Here is an example of low value contrast in a medium-light value and but with multiple colours (orange and yellow orange being analogous, then the green being triadic from the yellow and split complementary from the orange).
 Deep Value – Love Value Contrast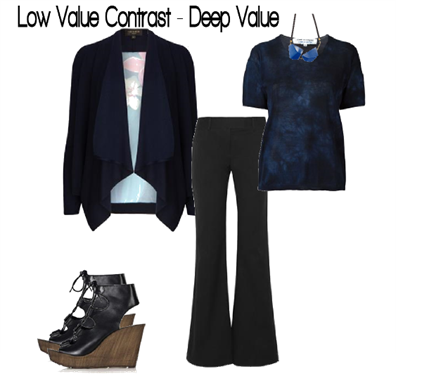 Here is another example of low value contrast, in a deep or dark value (deep and dark are really describing the same thing).
With the navy and black both being neutral – you could class this as 2 neutrals. But I would say that in this instance the navy works more in the top as a color – so it would be neutral plus 1 color with its color contrast.
As I'm Medium Value Contrast – low value contrast doesn't look great on me  – it makes me feel a bit bland.  To get away with it I had to wear some seriously blingy earrings which reflected light.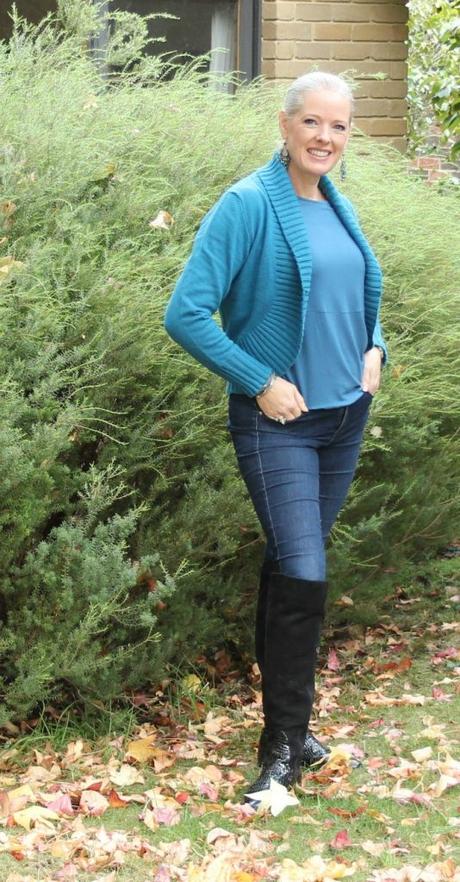 Read up more about Value Contrast
WHAT EXACTLY IS MEDIUM-HIGH VALUE CONTRAST?
VALUE CONTRAST AND YOUR VALUE
GETTING YOUR VALUE CONTRAST LEVELS RIGHT
WHAT IS MY VALUE CONTRAST?
HOW ANYONE CAN WEAR A HIGH CONTRAST PRINT
HOW TO WORK WITH YOUR CONTRAST -HIGH CONTRAST
HOW TO WORK WITH YOUR CONTRAST – LOW CONTRAST
HOW TO WORK WITH YOUR CONTRAST – MEDIUM CONTRAST