As a talismanic player for club and country, Wayne Rooney is used to life in the spotlight. A disappointing World Cup campaign carried a silver lining for the 28-year-old who finally removed the proverbial monkey off his back by scoring his first ever World Cup goal. It may potentially silence critics, which surprisingly includes Manchester United legend Paul Scholes, who believe Rooney may be past his prime, as his performances in Brazil suggested there is plenty more magic and quality to come from the Old Trafford star. Rooney is used to the burden and pressure of having to perform in every game, but Manchester United will need him to play a prominent role in what promises to be a huge season for a club that seriously under-performed and under-achieved throughout the 2013/2014 season in domestic and European competition.
The arrival of Louis Van Gaal into the managerial hot seat signals a new dawn for Manchester United who must look to retain the formidability and quality that saw them enjoy several wonderful years of success under the guidance of Sir Alex Ferguson. It will be a crucial summer for the club who will look to rebuild under the backing of the Glazer family, with Van Gaal reported to have a considerable transfer budget at his disposal. Luke Shaw and Ander Herrera have already agreed to join Manchester United in moves that suggest that the new manager will look towards top quality players who have youth on their side, and can supply Rooney with the service he needs.
Where will Rooney play?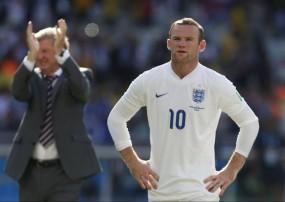 After a disappointing World Cup Campaign…
Despite returning home from the 2014 World Cup earlier than he, and many England fans, would have hoped, it provides Rooney with plenty of time to relax with his family before pre-season training begins ahead of the new season. He returns from Brazil with rumours that Van Gaal may look to utilise him in a deeper midfield role to get the most from Rooney's creative abilities, vision and range of passing. Rooney has often been utilised in the classic 'number 10' role behind one or two strikers, with a tendency to drop back allowing him to pick up possession in midfield and create an opportunity for himself or others. There is no doubt that Rooney has the quality to unlock defences whilst playing between the lines, but playing him deeper alongside a holding midfield may restrict his creativity and reduce Manchester United's attacking threat.
As one of the most clinical finishers in the Premier League, it is imperative that Wayne Rooney plays as further up the field as possible. If Louis Van Gaal goes with his preferred 4-3-3 formation, it is likely that Robin Van Persie will be the man chosen to play as the central striker. Brazil 2014 perfectly demonstrated why Rooney is wasted when played out of position; although there is no doubting his endeavour and work effort, the threat Rooney poses to defences is stifled, particularly when modern day wingers are expected to drop back and help out their full-back in defence. The same problems could arise if Van Gaal opts to play Rooney in a deeper midfield role as it takes away the extra element of quality that will be required if Manchester United are to return to the Premier League summit.
Manchester United's chances
Finishing in seventh last season illustrated the considerable difficulties that Manchester United endured in their first season following the retirement of Sir Alex Ferguson. It makes the 2014/2015 campaign hugely important for the club to re-assert themselves as a dominant force in the Premier League, with Van Gaal hoping to get Rooney firing on all cylinders yet again. Van Gaal already seems to have a shopping list in mind and this will only give Rooney more competition for a place.Despite their struggles, Manchester United remains a name that strikes fear into any opponent, with several bookies installing the Red Devils as third favourites for the Premier League title with odds of 11/2. Only Chelsea (7/4) and Manchester City (2/1) are rated as having a better chance of competing for the title, with both clubs looking to strengthen their squads even further – as are other potential challengers Liverpool (7/1) and Arsenal (9/1).
Van Gaal will have to adapt to life as Manchester United manager very quickly, with the pressure firmly on his shoulders to get the very best from a squad that under-performed in 2013/2014. Keeping Rooney in a more advanced position as the main striker, or a supporting role behind Robin Van Persie, will ensure Van Gaal gets the very best from the England star who would be simply wasted in a deeper midfield area.