Just in case that you are not a frequent dressy party-goer, you may find yourself in the situation where you receive an invitation that states as the dress code of the get-together as "black tie optional" and not really know how to dress.
If the dress code had been simply " black tie ", you would be sure that there are a few things you need to check before leaving for the party (the cummerbund or vest, the evening jacket, the shoes, etc.). However, if the invitation states that "black tie" is actually optional, things may be confusing as you may not be sure what goes and what does not.
"Black tie optional" is usually a dress code that falls in the formal category, but which leaves some room for interpretation. It basically means that the host wants you to be dressy, but that they are being flexible and leave it up to you to decide how you are going to dress. Surely, the fact that they mention "black tie" implies that they are recommending following this code, but, in case this is too complicated or it is not available to you, you can dress otherwise, but that they still expect you to be dressy.
In this sense, what you can do is basically to style down a classic black tie look or to dress up a nice classic suit. For example, if you want to wear a classic suit, like one you would wear on for a business meeting, you should not wear it with a colorful shirt. Keep it simple and elegant with a crisp white dress shirt. Also, instead of wearing a tie as you would wear during a business meeting, you can opt for a bow tie. A black bow tie may be off, since this is the mark of a black tie look, so if you are wearing a regular suit, we would recommend wearing a more colorful bow tie. A safe bet is a dark blue / navy bow tie or a burgundy one. Don't wear a white bow tie, as these are reserved for more high-end occasions.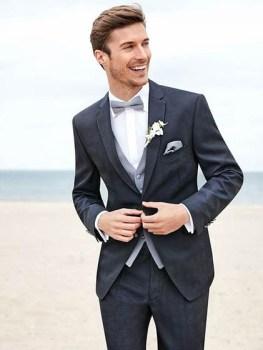 "Black tie optional" also means that you don't have to wear the patent leather dress shoes you would normally wear for a black tie gala, but this doesn't mean you shouldn't pay attention to your shoes. If you don't know what to wear, we would recommend wearing a pair of simple, elegant, black Oxford shoes. We would not recommend going for brown, unless your entire ensemble is brown- or orange-based. Also, while generally you can wear mismatching socks and shoes, if the dress code is described as "black tie optional", we would recommend wearing matching socks and shoes. Red socks may be fitted on some occasions, even if you wear black pants and shoes, but that can be hard to pull off. Monkstraps or other types of shoes may not look good.
If you want to add some nice finishing touches to your outfit, we encourage you to make best use of accessories. A colorful pocket square, a watch or a nice belt are great options. As a quick note, if you are wearing a pocket square and a tie, it is usually recommended that these do not "match", but that they simply go together. For example, you can create an analog color scheme and wear a green pocket square with a purple bow tie or a contrast-based color scheme based on blue and yellow for example.
When you are choosing your accessories, it is also essential not to wear too many: 3 - 4 accessories should be enough. Also, it is important to distribute them across your body. For example, we would not recommend putting too many on the upper half of your body, such a bow tie, a lapel flower and a pocket square. Distribute them evenly: for example, a nice bow tie, a cool watch and a great belt.
In short, the "black tie optional" code basically means that you are expected to be dressed according to the black tie code, but that if you can't, you should still look very elegant. If you are not sure as to what is expected of you, you can always call the host and ask or ask someone else who is going and whom you trust in these matters.
When you are attending a party, it is always essential that you feel comfortable, so we would definitely recommend trying on your outfit beforehand and wearing it a lot around the house and, to always wear only things you are comfortable with; unless, of course, there is a strict dress code.
Fraquoh and Franchomme
Further reading:
10 Quick Things To Look For In A Suit A Quick Guide to the Main Dress Codes 12 Essential Suit Rules The Different Types Of Men's Dress Shoes Should Your Socks Match Your Shoes? How to Be Well-Dressed on Every Occasion
P.S. How do you dress when you read "black tie optional" on an invitation? How do you accessorize? What colors do you like to wear? Share your feedback, questions or thoughts in the comments below! For more articles on style, fashion tips and cultural insights, you can subscribe to Attire Club via e-mail or follow us on Facebook, Twitter or Instagram!