%%bloglink%%
I believe studying how and where people spend their money, especially their discretionary dollars, is an excellent way to gauge how confident they are in their current financial situation.
One of the best examples of this I can think of are 5K races. Here's why:
Why spend the $15-40 entrance fee when you can run for free?

5K races remain the most popular U.S. running event in both the number of races (15,200 in 2013) as well as the number of participants  (8,300,000 in 2013).

A 5K race does not require expensive gear or training thus opening it up to a wide variety of incomes.

5K racers come in all ages and sizes.

5K races are not restricted to just select areas. They take place all over the country and during all times of the year.

The table below shows how the growth of running slowed dramatically during 2007/8 and starting increasing again in 2009.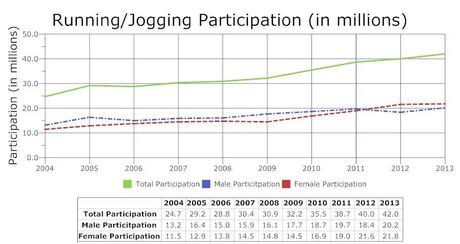 2013 U.S. Running Events
Distance                  # Finishers           % of Total              # of Events       % of Total
5K                              8,300,000            43.6%                     15,200              54%
Half-Marathon      1,960,000             10.3%                     2,100                8%
10K                            1,480,000             7.9%                       3,200               11%
Marathon                541,000                 2.8%                       1,100                4%
Others                      6,744,000             35.4%                     6,600               23%
Totals                       19,025,000                                           28,200
Source: Athlinks.com
Here is a listing of the twenty-five largest 5K races in the U.S. along with the number of finishers they had in 2013.
Rank
Location
1
24,871
Hot Chocolate Chicago
Chicago, IL
2
24,000
Revlon Run for Women: LA
Los Angeles, CA
3
21,248
Capital One Bank Dallas YMCA Turkey Trot
Dallas, TX
4
18,240
Race for the Cure: DC
Washington, DC
5
17,305
Mercedes-Benz Corporate Run
Miami, FL
6
16,000
Revlon Run for Women: NYC
New York, NY
7
13,900
IOA Corporate
Orlando, FL
8
12,304
McGuire's St. Patrick's Day
Pensacola, FL
9
11,833
Applied Materials Silicon Valley Turkey Trot
San Jose, CA
10
11,684
Fifth Third Detroit Stuffing Strut Turkey Trot
Detroit, MI
11
11,638
Publix Super Markets Gasparilla Distance Classic
Tampa, FL
12
10,606
BlueCross BlueShield of North Dakota Fargo & 5K Walk
Fargo, ND
13
10,198
Adidas Shamrock Run
Portland, OR
14
10,100
Times Turkey Trot Wingding
Clearwater, FL
15
9,479
Inaugural Sandy Hook Run for the Families
Hartford, CT
16
9,083
Hot Chocolate Atlanta
Atlanta, GA
17
9,044
Dana Point Turkey Trot
Dana Point, CA
18
8,886
St. Patrick's Parade Corktown Races
Detroit, MI
19
8,178
NYRR Dash
New York, NY
20
7,805
Anthem 5K Classic
Louisville, KY
21
7,452
Girls on the Run Spring
St. Louis, MO
22
7,484
Especially for You
Cedar Rapids, IA
23
7,427
Disney Royal Family
Orlando, FL
24
7,398
Hot Chocolate San Diego
San Diego, CA
25
7,338
Fifth Third River Bank Run and 5K Walk
Grand Rapids, MI