Following last weekend's UCI race all roads from northern Italy lead to northern Scotland as the rigs, vans and trucks start the long haul across Europe to Fort William. En-route Lorenzo found the time to drop by the socksupermarket.com offices for a quick photoshoot with this month's sock monster Oddbobs, to sign-off our new Men's Italian DownHill Pro sock and to update us on his World Cup challenge.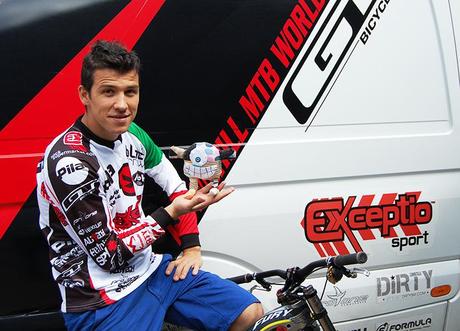 Nursing a wrist injury and following a disappointing did not finish in Val di Sole Lorenzo's confident that this will be his chance to shine on the Aonach Mor course. But with competition in this year's UCI Mountain Bike World Cup proving to be as fierce as ever and in the tough world of downhill at this weekend's leg (9th/10th June), on the 9th highest mountain in the UK, Lorenzo concedes that "no-one can predict who will deliver that faultless run on the day.  Riders need physical strength, quick reflexes, superb bike control and an unerring eye for the right line as they speed down the 2.8km long course. And a lot of bottle (and good socks too)!"
For socksupermarket.com having Lorenzo back on top form will ensure some super loud cheering from us and having the Olympic Torch arrive on Saturday will increase the celebrations at one of the biggest and best sporting events in the Highlands.