One of the major things you will discover as you learn about going vegan is its environmental benefits.  So if you're like me, all the waste of kale stalks from all that massaged kale you're making might start seeming a little out of alignment with those environmental values.  I had a huge bag of stalks leftover from making kale donuts, and couldn't help but feeling there had to be something I could do with them.  And there is!  If you're wondering how not to waste them, look no further.  The answer?  Kale soup!  Yep.  Once again I have turned my green smoothie into something new and different – green soup! This is simple, easy, and perfect for the Vitamix or other high speed blender.  A refreshing light dinner, perfect served with a piece of toast.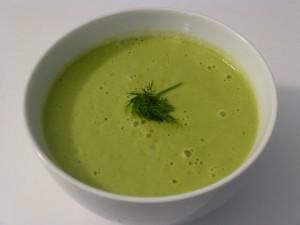 Nom.
Print Kale Soup with Lemongrass, Dill, and Ginger
Ingredients
2 1/2 C water
~3 C kale stalks
2 medium-large yellow potatoes
1 T minced garlic
2 t sea salt
1 t ground ginger
1 5 inch piece lemongrass
1/2 C raw cashews
pepper, to taste
4-5 stems of fresh dill
Instructions
Poke potatoes with a fork (to prevent explosion), and pre-cook in any method you prefer. I used the microwave for about 10 minutes - they do not need to be fully cooked, just softened.
While potatoes are cooking, add all other ingredients to your blender.
Chop potatoes into quarters, and add.
Blend for 5-6 minutes, until steaming hot.
Taste and adjust seasoning as desired, reblending to fully incorporate.
Enjoy!!
Notes
If you don't have a high speed blender (and I highly recommend considering one - my Vitamix is worth every penny!! :) ), this can easily be made with a few tweaks. First, make sure to soak the cashews for at least 2 hours before use. Second, precook the potatoes to fully cooked. Third, blend everything as smooth as you can with any other blender or food processor, and then heat til boiling. Reduce heat to simmer and cover, allowing the flavors to meld for at least 15 minutes. Add additional water as needed for desired consistency.
Schema/Recipe SEO Data Markup by ZipList Recipe Plugin2.2
http://www.abcvegan.com/what-do-i-do-with-all-those-kale-stalks/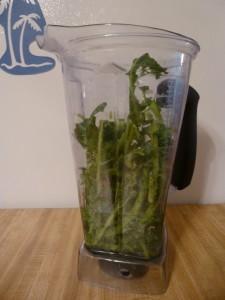 No longer going to waste!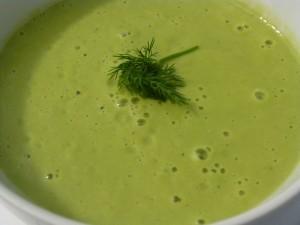 Preeeeeetty. :)