Photo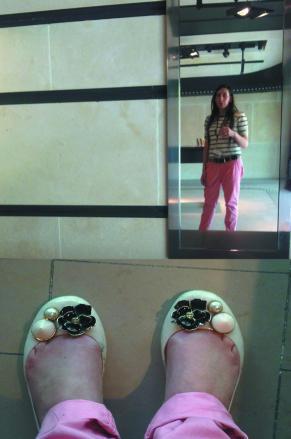 WHAT DESIGNERS WEAR - for comfort.
Keeping it simple for spring, i put together this comfortable little ensemble for a day at work followed by a drink with friends and sunny walk in the park.
I have often mentioned a designers need for comfort, style and individuality, so here is my look for yesterdays, hot day at work in Paris.
Pink chinos: 19.95€ H&M. nautical long sleeved T: about 6€ H&M kids. Floral plastic pumps: about £20 River Island. Black studded leather belt: about £15 Hellfire clothing, Glasgow.
Honing in on the famous french Cruise look; This style took me through my Paris day with ease, yet added a a splash of colour which i feel is rather lacking on the streets of Paris. Strolling from work, via many designer boutiques (for research of course!) to Starbucks & the park, i felt confident. A classic look like this is versatile as you can see and made me feel good in all of the above situations.
Wearing killer shoes, but without the sore feet and in all cotton; sweating was kept to a minimum.
xoxo LLM