Over on Buzzfeed they've got the whole story. Basically, this guy started treating a local Applebee's Facebook page as if it were a real human, and hilarity ensued.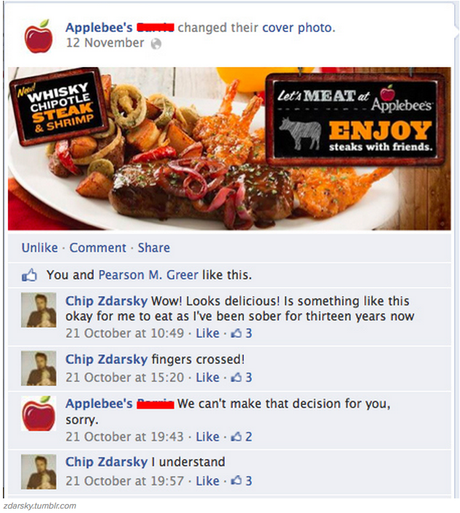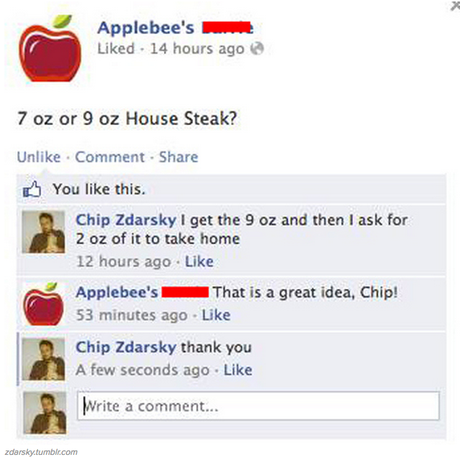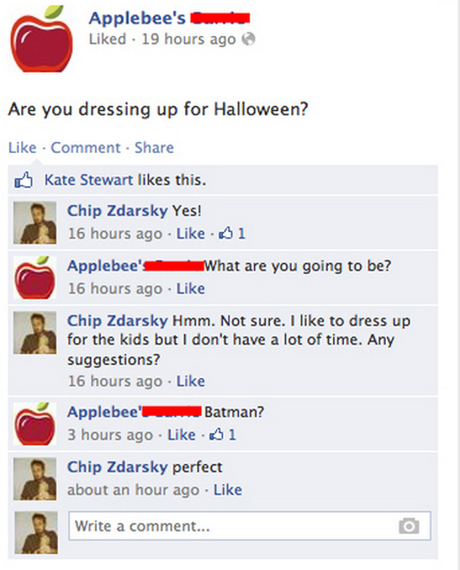 Because, of course, that local Applebee's Facebook page is being curated by a real human.
But the real human has to keep pretending to be a corporation, asking all the inane, go-to, low-hanging social media questions focussed inwardly on Applebee's products as fake conversation starters.
It's a revealing moment Mr. Zdarsky has created.
What can we learn?
1.
This Is A Weird Time For Communications.
It's the twilight between the bright sunny day where it was clear when a brand was advertising "at" you with no expectation to pretend to be a friend of yours. After the transitional period we are now in, we will enter a future where brands will be able to hang out with us on social networks and understand what to say, when to say it, how to say it, and when to shut up and not pretend to be something they're not.
2.
Being the Voice of a Facebook Page for a Restaurant Is a Pretty Stressful and Thankless Task.
Have you tried it? It's a demanding job to be "in brand" and responsive. Because ROI is so difficult to determine, the person manning the feed is usually really young, and may be talented or may be hapless. And it's often unclear how best to interact with someone—for example, I think it was hard for this community manager to determine if Chris was messing with him/her, or if Chris was a sincere, lonely person. Consider Chris's playful amusement at how unfailingly cheerful this Applebee's representative is, mixed with his empathy, and it's extremely confusing.
3.
Chris Zdarsky Has Been Sober for Thirteen Years, Which Is Awesome.
But I can't wait until we resolve this social media conundrum. Conventional social media wisdom admonishes us all to "treat the social media feed as if you're one human talking to another" but sometimes it's just silly for a corporation to pretend they're our friend.
I shrug.
And I glow with mild delight at this really funny relationship. Makes me want to go watch that Spike Jonze Her movie.