Scenario: Inconsistency once again rears its ugly head in your golf swing and you chunk, thin it and watch as your shots fly off in all directions. You think this anomaly will solve itself over time but it only gets worse.
What is the first step to a cure? A video analysis of your golf swing!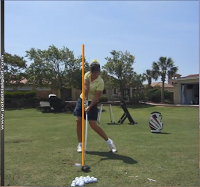 Yes, I am guilty of not taking regular golf instruction to keep me on track but, after a recent lesson at the Grande Dunes Golf Performance Center in Myrtle Beach, I realize that my swing won't fix itself.
Instructors like Dale Ketola are awesome without using technology to guide them, but their skills are amplified with software such as V1.
The software can show a hitch or improper plane angle with front or side views, allowing the teacher to give you the proper method of solving the issue(s). The student also benefits because he or she gets to watch the swing over and over again, with analysis from the teacher.
In my previous blog, my video golf lesson using my irons showed that not only was my head in front of the ball but I was turning my body to look at the target, thus pulling my shots. Dale offered me an easy fix which I have been working on at the driving range.
Next was an analysis of my driver swing which, I am happy to report, is excellent and right on plane!
Even though I swing my driver well, Dale offered me a tip or two to improve my position even further (watch the video below for golf tips of view Rate My Golf Driver Swing on Youtube.com).
 
Don't forget the importance of having a driver fit correctly for your golf swing - if you visit the Myrtle Beach area, ask Dale for help with this as well!
Do you regularly take golf lessons? Let us know the benefits you received below, on this golf blog, and tag us on Twitter @Golf4Beginners.