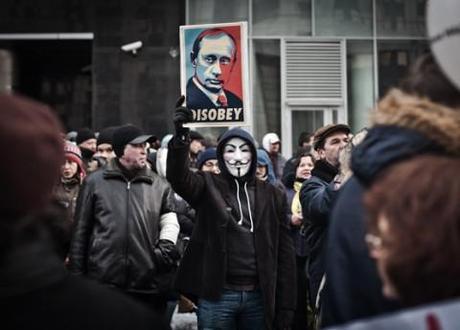 Election protests in Moscow, December 2011. Photo credit: Sime Simon, http://flic.kr/p/b1v8XH
Thousands of protestors took to the streets of Moscow to question the legitimacy of Prime Minister Vladimir Putin's presidential election win. At least 20,000 people attended the anti-Putin protests, according to Miriam Elder in The Guardian; black-clad riot police moved in to break up the demonstration, making hundreds of arrests, including prominent Russian anti-corruption activist Alexei Navalny. "Ahead of the election and the planned protest, the government had poured thousands of extra police and interior ministry troops into the capital, backed by army trucks and at least one helicopter," wrote Elder.
Oppositions activists cried foul after Putin's 63 percent first-round win on Sunday, which will see the PM retake the presidency,  having held the position from 2000-2008. According to international election monitors, the presidential vote was better-managed than the disputed 2011 Russian parliamentary elections, but "was still unfair and heavily skewed to favor Putin", reported Reuters.
So does the latest crackdown mean Putin is returning to his notorious hardman style of leadership? Or will the once and future president take note of increasing clamour within his country for change?
'Institutional wasteland'. "Russia is a country where a nascent political society is suffocated by a total lack of functioning political institutions," wrote Stephen Holmes on The Guardian's Comment is Free; this "institutional wasteland" means Russians are pessimistic about the future of a country that is based on "the unpredictable survival and physical health of a single mortal man". According to Holmes, the anger that followed Putin's decision to make another bid for the presidency came from the realisation that "Russia has no system of rules by which one president can be succeeded by another: the transfer of power remains a matter of personal choice by the ruling elite".
"Voting yesterday, I felt like I was choosing the least dirty toilet in a crowded train station," a Russian voter told Reuters after the presidential election.
Not business as usual. Putin and his advisors are aware that simply carrying on as before won't solve Russia's problems of "asphyxiating corruption, an underperforming and rickety economy (further threatened by Mr Putin's extravagant electoral promises), capital flight, and population decline accentuated by massive emigration," Tony Brenton wrote in The Times (£). These are the kind of issues that could eventually lead to a messy regime collapse – and Putin will seek to avoid this. There are indications that change is afoot, said Brenton, such as direct election of provincial governors; but "all this may be no more than the virtual politics with which Russia is so familiar, with no real intention to follow through".

No change in sight. "Putin's real challenge is to create a Russia with a pluralist political system and a successful, modern, market economy. But if he does either, I shall eat my fur hat," wrote Malcolm Rifkind in The Telegraph. Rifkind argued that Putin lacks imagination when it comes to foreign policy, and this will prove a major disadvantage to Russia's economy in the future. For the West, Putin's return has only one major benefit: "It guarantees that for the next six years Russia will be stable and fairly predictable."
Confrontation likely. Putin is likely to adopt a more confrontational stance towards the West, in order to "distract attention from his own misrule and unite Russians around him", suggested David Satter in The New York Times. Satter predicted that Russia will "emerge as a strong defender of Iran and such 'liberal' leaders as Syria's Assad", that Russian espionage will increase, and that any attempts by the US to get involved with democratic reform in the country will be met by hostility from the regime.
There are at least 27 good reasons Vladimir Putin won the presidential vote, according to Buzzfeed. These include the fact that he "knows how to hug a dog" and "pioneered shirtless ping-pong".
'Russian Spring' won't happen. The current Moscow protests are unlikely to grow into n Arab Spring-style regime change, said The Christian Science Monitor, given that economic circumstances are good in the capital. And according to CSM, "while representatives of the growing middle class are increasingly demanding political liberalization, better governance, and an end to corruption, they want these changes to occur in a peaceful manner." If the protests do turn violent, Putin already has back-up in situ: "The Moscow area boasts one of the highest concentrations of law-enforcement and security personnel, which remain loyal to Putin and could be employed to tame violence."